ICO MonsterBit.org – Invest in Blockchain Game 2.0
Let us introduce you MonsterBit. It is a blockchain game. The new word in the gaming industry. It is a clone of the most successful cryptogame – the CryptoKittens clone, but even a much more interesting one. In case you don't know, the CryptoKittens is a game, where people buy e-kittens and breed them altogether, get one more kitten and sell.
The point is that all kittens are unique. Some distinct creatures worth a few hundred thousand of US dollars. Yes, just a seldom picture can worth such a huge amount of money. Do you say that the world has gone crazy? Yes, I am agree with you. So let's earn money on this craziness!
Monsterbit offers you exactly to do this
Here you have to feed and grow up your monster, and only then breed it. The most interesting feature in the game is that you do not simply grow up your creature to sell, but grow up a real fighting monster. With which you can fight other gamers for all the values in the game. Foght for food, weapons and the monster itself. It is very cool!
There will be also advertising monsters in the game. I.e. your monsters will be advertising goods, and you will earn real money on it. One more unique future of the game is the e-shop of the real stuffed toys. Monster owner gets 15% return on the sale of a toy. Participate in the ICO and become investor of the best blockchain game year 2018.
What gains a token holder?
You can buy the unique System monsters using tokens. These monsters differ from the monsters to grow up and breed. The System monsters are the generators. They generate the whole system. They generate all monsters, food, weapons and sell them. I.e. token holders become sellers of the whole values in the game. Your system monsters will generate, sell and provide you with profit.
1 token = 1 System monster.
There are 7.5 millions of tokens totally. 6 millions of tokens are to be sold. 1.25 millions of tokens go to the team. 250 000 tokes go for bounty.
Blockchain Game
MonsterBit – is an analogue of famous cryptogame with interesting additions for both players. We did not reinvent the wheel. We took the successful project and made made it stronger from the point of view of functionality and more vibrant from the point of view of design. To the normal reproduction and a unique DNA, we have added the maturity of heroes at the expense of feeding them. Also, there were implemented many interesting features, which we are going to reveal further.
Monster Marketplace
Buy and sell monsters of different ages and generations. All transactions in the system are made via Ethereum in the currency of ETH.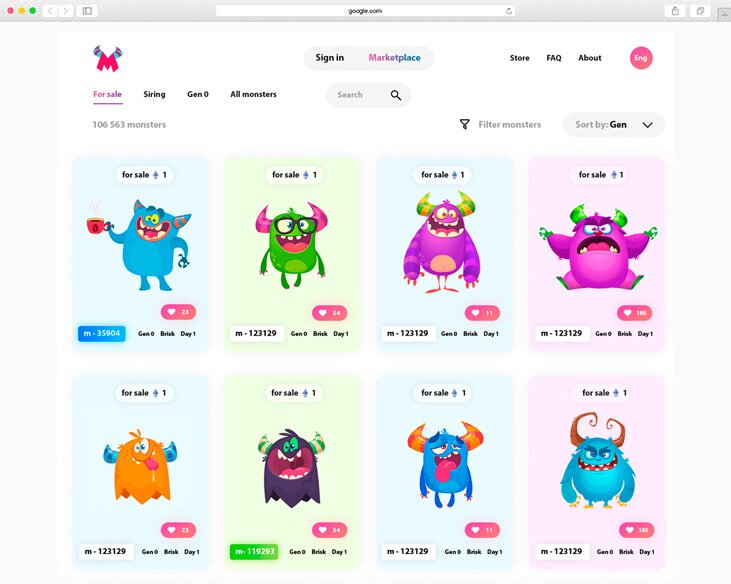 Breeding
Only big monsters can be breeded. Small monsters need to be feeded by hamburgers to become big.
Food Marketplace
Through food small monsters become big, and big ones can enlarge the speed of recovery after reproduction. You can buy food in the shop or get it through watching commercials.
Monsters Fights
Users can fight each other to gain food, weapons or the monster. The weapons will be sold in the shop.
Advertising Monsters
Your monsters can advertise goods and you can get real money for it.
Internet-shop of toys
MonsterBit is the real plush and plastic toys online store. Anyone can order a toy from any monster. We arrange delivery to the house. The monster owner will receive 15% of the toy cost. Toys will be sold in dollars and in ethereum.

3 round of CROWDSALE
Issues: 7,5 millions of tokens. 1,25 millions are gained by team, 6 millions of tokes to be sold. 250 thousand – Bounty
01 ROUND
Sale: : 1 000 000 MB.
Price: 0.0002 ETH
02 ROUND
Sale: 2 000 000 MB.
Price: 0.0005 ETH
03 ROUND
Sale: 3 000 000 MB.
Price: 1-2$.
What you get
The token holder receives: Token MB allows you to buy SYSTEM monsters which generate the system You can buy or sell the token at the inner market We hope to enter the external market
SYSTEM monsters. They do not grow and do not breed. They generate the entire system. Initially, they can be bought only for tokens. In the future you can sell them in the monster shop. Token holders automatically become sellers of all the valued goods in the game. The System monsters will be generating, selling and providing you the profit. 1 token = 1 System monster. The point is in quality, but not quantity.
They generate commission on purchases and sales of monsters to the users. Monsters gain part of these commissions.
They generate Monsters GEN 0 and also sell it for ETH.
They generate all the food for monsters and sell it. I.e. the tokenholders will sell food for ETH to the users.
They generate blusters and its refill and sell them for ETH to the users.
Our team
Road Map
The dates mentioned are estimated. We will do everything to speed up the process of creating the game. We are going to strengthen the team after gaining finances.
Grape launches layer-1 ecosystem to power AI-driven decentralized internet
Grape has announced the launch of its layer-1 ecosystem, powered by its DAG-based distributed ledger technology, Vine. The Grape team's core vision is both true decentralization and global mass adoption of blockchain and Web3. For this reason, Grape set out to solve the core issues preventing both, such as Web3 and cryptocurrency being difficult to use or understand for the average person, the fact that almost none of the technologies used in Web3 are truly decentralized, and that there is no seamless ecosystem that can handle the demand needed for complex decentralized applications.
Grape is actively solving these barriers via:
A complete ecosystem — bringing all of the necessary technologies into one ecosystem (decentralized file storage, adaptable smart contracts, DAG layer-1, AI tools, etc.) to create a single environment for the creation of decentralized assets and applications.
True decentralization — creating a DAG core without supernodes or backdoors, making it completely user-powered and therefore 100% decentralized.
Power for the future — the Grape team wanted to allow for the limitless creation of complex applications and content on Grape, so creating a system without hard limits on transaction processing was top priority. This has been achieved through Vine and its advanced node system. Each user node adds an additional 1,000 transactions per second in processing power to Vine. This means that by adding only 15 individual user nodes to Vine, it can be as decentralized as a coin like Bitcoin, with the ability to process as many transactions as major centralized systems like Visa, at 15,000 TPS. Increasing the amount of user nodes, Vine can easily power over 700,000 transactions per second while maintaining absolute decentralization. Nodes can be created easily via the wallet.
Mass adoption — the Grape team believes that hyper simplicity, compatibility and usability are all key to the mass adoption of Web3 and cryptocurrency. For this reason, Grape is building ANNE, its AI Neural Network Engine, which will power its AI smart contract generator. Using this, users will be able to create complex decentralized websites and DApps in minutes to hours, rather than months and years. The Grape team believes that by making blockchain and Web3 easy to use, mass adoption is inevitable. By allowing anyone to produce DApps with text commands, the amount of decentralized sites and applications can go from hundreds a year to hundreds of thousands a year, creating adoption and perpetual growth while fostering ideas.
Compatibility — the Grape team believes that making things as seamless and compatible with the industry as possible is important for the future. Things like EVM compatibility and integration into commonly used Web2 systems are being built into Grape's core without compromising security and decentralization.
Finance3 — Grape hopes to drive the decentralized finance revolution through key partnerships that combine the convenience of fiat with the privacy of cryptocurrency.
Taking part in Grape
Grape is offering two opportunities for users to get GRP before its full launch.
Grape distribution
The first is through its seven whitelist distribution rounds, where a limited number of people are able to take part in the distribution.
Grape airdrop
The second opportunity is through Grape's airdrop. Those interested can increase their chances of getting up to $1 million USD in GRP. It involves joining their socials, tweeting about them, joining the testnet and email blasts. For an even better chance at whitelisting and a super drop, users should also invite people to help build the Grape community.
By participating early on in Grape's platform, users can secure the lowest prices and potentially benefit from their substantial airdrops.
About Grape
Grape is a decentralized layer-1 ecosystem that aims to provide developers with the tools and infrastructure they need to create complex, future-proof Web3 applications. The contact information and social media pages below provide more information about this growing project.