Altonomy Launches New Cloud Mining Product for Institutions
Altonomy, the leading trading desk, market maker and asset manager for cryptocurrency assets and derivatives, announced today it has launched AltMiner, a new cloud-based mining product tailored to international institutions and large investors seeking long-term exposure to bitcoin.
"We'e delighted to launch AltMiner and provide larger investors with high-quality miner exposure at a lower relative cost than retail-focused alternatives," said Ricky Li, co-founder of Altonomy. "As the crypto market moves from strength to strength, this product allows institutions to recoup bitcoin generated by the most advanced miner technology available, without requiring coverage for mining overheads such as setup fees, hosting costs and utility expenses."
AltMiner products have a minimum buy-in of $500,000 and each product is sold as a two-year contractual commitment. Payouts are issued to product owners daily in bitcoin and are proportional to the owner's hashrate, as well as the hashrate of the entire Bitcoin Network.
The first batch of AltMiner products, which had a hashrate capacity for $3 million, is already oversubscribed by more than 300%, with the first payout window commencing on June 26, 2019. Altonomy owns the underlying equipment and is offering second batch of AltMiner, with an estimated capacity for more than $10 million.
"Being backed by sub-10 nanometer bitcoin mining processors, AltMiner is harnessing technology that is extremely hard to procure," said Charles Pyo, CEO of Chain Partners. "We are thrilled that such a product is now available, giving us exposure to efficient miners and promising returns. As a long-term partner of Altonomy in the Korean market, we are also extremely excited to make this product accessible for Korean investors."
"In AltMiner, Altonomy is providing a compelling product that gives us the long-term exposure to bitcoin we seek," said Jae Hoon Choi, founder and CEO of Pledgecamp. "The regular payouts that AltMiner generates provide a steady cash flow to help fund our daily operations. We are very glad to work with a notable institution like Altonomy on this."

"As mining exposure takes root among retail investors, AltMiner presents a pioneering product for institutions," said Ryan Fang, Founder of ANKR. "Depending on market conditions, one can make the case that AltMiner is a superior vehicle for long-term exposure to bitcoin, then this is the easiest and probably the cheapest solution."
Binance Launches Margin Trading Service for Evolving Cryptocurrency Traders
The global cryptocurrency exchange and blockchain ecosystem comprised of several arms to serve the greater mission of blockchain advancement, Binance, today announced the launch of its Margin Trading platform. As part of Binance's effort to help push the industry forward and freedom of money, the company is expanding its trading possibilities, similarly to existing leveraged trading features on traditional markets.
"This is another step in providing an inclusive cryptocurrency trading platform catering to the needs of both advanced institutional traders and retail traders under the same roof," said CEO of Binance, CZ (Changpeng Zhao). "We are providing a new tool in the financial services and cryptocurrency markets to help amplify trading results of successful trades."
Margin trading confers to a higher profit potential than traditional trading for leveraged positions, but also comes at a greater risk, which relates to the current volatility cryptocurrency market. Margin trading in cryptocurrency trading can be used to open both long and short positions, where a long position reflects an assumption that the price of the asset will go up, while a short position reflects the opposite. Binance hopes to continue informing and raising more awareness on conscious trading for its communities on margin accounts to help them realize better profitability, lower risks, and more portfolio diversification.
"Though the current cryptocurrency market and legacy platforms for margin trading poses greater risks and benefits at the same time, we are confident that its development coupled with more knowledge on proper risk management will help realize greater benefits in the long run," said Yi He, co-founder of Binance. "With margin trading being one of the most requested services from our community, this is a testament to the large market demand from retail and institutional traders alike and its promising possibilities in the future."
Binance 2.0: One Platform, Two Functions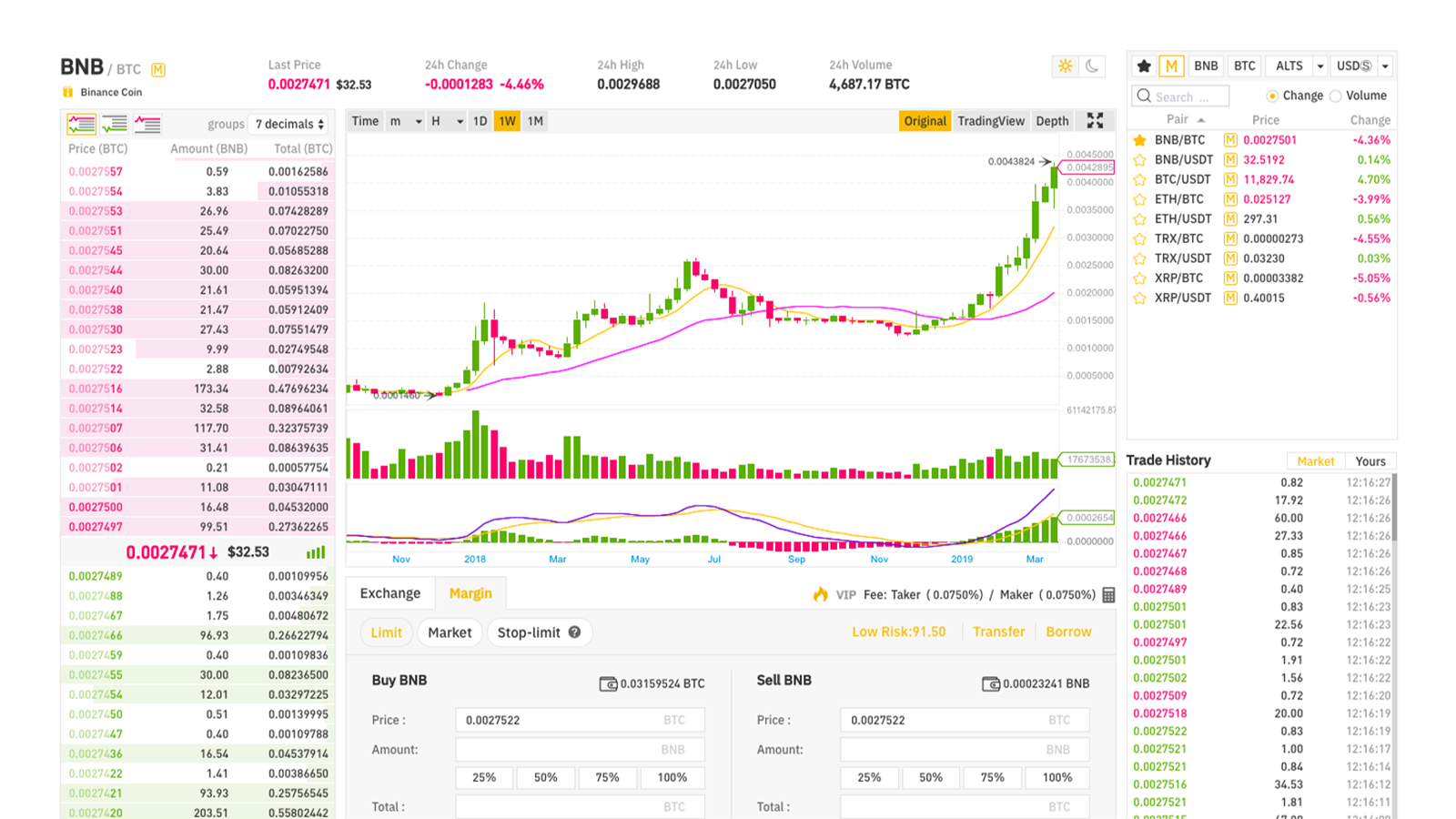 The Binance Margin Trading platform is hosted under a newly optimized interface for accessing both its exchange platform and the Margin function to better serve the fast-evolving cryptocurrency traders seamlessly within one user account and familiar interface. The 2.0 platform also features an advanced trading engine for better order matching and press indexes for margin level calculations to enable lower liquidations.
The new Binance 2.0 platform also allows its users to move funds easily from the Margin Wallet to their primary Binance Wallet without any transaction fees. Binance Margin provides the option to choose collaterals from a diverse spread of cryptocurrencies, also enabling users to pay for margin trading fees with Binance Coin (BNB).
Learn how Margin Trading on Binance works from Binance Academy's guide: https://www.binance.vision/tutorials/binance-margin-trading-guide