Attorney General James Announces Court Order Against "Crypto" Currency Company Under Investigation For Fraud
Attorney General Letitia James today announced that her office obtained a court order enjoining iFinex Inc., operator of the Bitfinex virtual asset trading platform, and Tether Limited, issuer of the "tether" virtual currency, and their related entities, from further violations of New York law in connection with an ongoing activities that may have defrauded New York investors that trade in virtual or "crypto" currency.
"Our investigation has determined that the operators of the 'Bitfinex' trading platform, who also control the 'tether' virtual currency, have engaged in a cover-up to hide the apparent loss of $850 million dollars of co-mingled client and corporate funds," said Attorney General James. "New York state has led the way in requiring virtual currency businesses to operate according to the law. And we will continue to stand-up for investors and seek justice on their behalf when misled or cheated by any of these companies."
In papers filed with the Manhattan Supreme Court, the Office set forth certain findings of its ongoing investigation into Bitfinex and Tether. Today's court order requires that the operators of the companies immediately cease further dissipation of the U.S. dollar assets which back "tether" tokens while the Office's investigation continues, and produce documents and information, including material called for by the Office's previously-issued investigative subpoenas. The companies are also barred from destroying, deleting, or permitting others to delete, potentially relevant documents and communications, including documents and communications stored on any self-deleting or "ephemeral" computer applications.
In September 2018, the Office of the Attorney General issued its Virtual Markets Integrity Initiative Report, which set forth the findings by the office about the practices of "virtual asset trading platforms" that operate, or were believed to operate, in New York. Among the findings set forth in that Report, the Office highlighted the "substantial potential for conflicts between the interests of the platform, platform insiders, and platform customers."
In November 2018, the Attorney General issued subpoenas to Bitfinex and Tether, which are owned and operated by the same small group of individuals, and claim not to do business in New York. As alleged in court papers filed by the Attorney General's office, the Bitfinex trading platform allows New Yorkers to purchase and trade virtual currencies, including the so-called "tether" stablecoin, a virtual currency the companies long claimed was "backed 1-to-1" by U.S. dollars held in cash reserve.
The filings explain how Bitfinex no longer has access to over $850 million dollars of co-mingled client and corporate funds that it handed over, without any written contract or assurance, to a Panamanian entity called "Crypto Capital Corp.," a loss Bitfinex never disclosed to investors. In order to fill the gap, executives of Bitfinex and Tether engaged in a series of conflicted corporate transactions whereby Bitfinex gave itself access to up to $900 million of Tether's cash reserves, which Tether for years repeatedly told investors fully backed the tether virtual currency "1-to-1."
According to the filings, Bitfinex has already taken at least $700 million from Tether's reserves. Those transactions – which also have not been disclosed to investors – treat Tether's cash reserves as Bitfinex's corporate slush fund, and are being used to hide Bitfinex's massive, undisclosed losses and inability to handle customer withdrawals. The Office's filings further detail how the companies obfuscated the extent and timing of these corporate transactions during the Office's investigation.
Issued pursuant to General Business Law section 354, a provision of New York's Martin Act that confers broad powers on the Attorney General to investigate and halt fraud in connection with securities or commodities, the court order bars the operators of Bitfinex from further draining the cash reserves of Tether, or taking personal distributions or dividends from the reserves. The order also compels the companies to produce relevant documents and information which, to date, they have failed to produce to the Office of the Attorney General. A copy of the court order can be viewed here.
The Attorney General's Virtual Markets Integrity Initiative Report provides information about virtual asset trading platforms, and the risks to retail investors in these products.
This investigation is being handled by Senior Enforcement Counsel John D. Castiglione and Assistant Attorney General Brian M. Whitehurst of the Investor Protection Bureau, and Assistant Attorney General Johanna Skrzypczyk of the Bureau of Internet and Technology, supervised by Chief Deputy Attorney General for Economic Justice Christopher D'Angelo, Investor Protection Bureau Chief Kevin Wallace, and Bureau of Internet and Technology Chief Kim Berger. Legal Assistant Charmaine Blake is assisting in the investigation.
Binance Launches Margin Trading Service for Evolving Cryptocurrency Traders
The global cryptocurrency exchange and blockchain ecosystem comprised of several arms to serve the greater mission of blockchain advancement, Binance, today announced the launch of its Margin Trading platform. As part of Binance's effort to help push the industry forward and freedom of money, the company is expanding its trading possibilities, similarly to existing leveraged trading features on traditional markets.
"This is another step in providing an inclusive cryptocurrency trading platform catering to the needs of both advanced institutional traders and retail traders under the same roof," said CEO of Binance, CZ (Changpeng Zhao). "We are providing a new tool in the financial services and cryptocurrency markets to help amplify trading results of successful trades."
Margin trading confers to a higher profit potential than traditional trading for leveraged positions, but also comes at a greater risk, which relates to the current volatility cryptocurrency market. Margin trading in cryptocurrency trading can be used to open both long and short positions, where a long position reflects an assumption that the price of the asset will go up, while a short position reflects the opposite. Binance hopes to continue informing and raising more awareness on conscious trading for its communities on margin accounts to help them realize better profitability, lower risks, and more portfolio diversification.
"Though the current cryptocurrency market and legacy platforms for margin trading poses greater risks and benefits at the same time, we are confident that its development coupled with more knowledge on proper risk management will help realize greater benefits in the long run," said Yi He, co-founder of Binance. "With margin trading being one of the most requested services from our community, this is a testament to the large market demand from retail and institutional traders alike and its promising possibilities in the future."
Binance 2.0: One Platform, Two Functions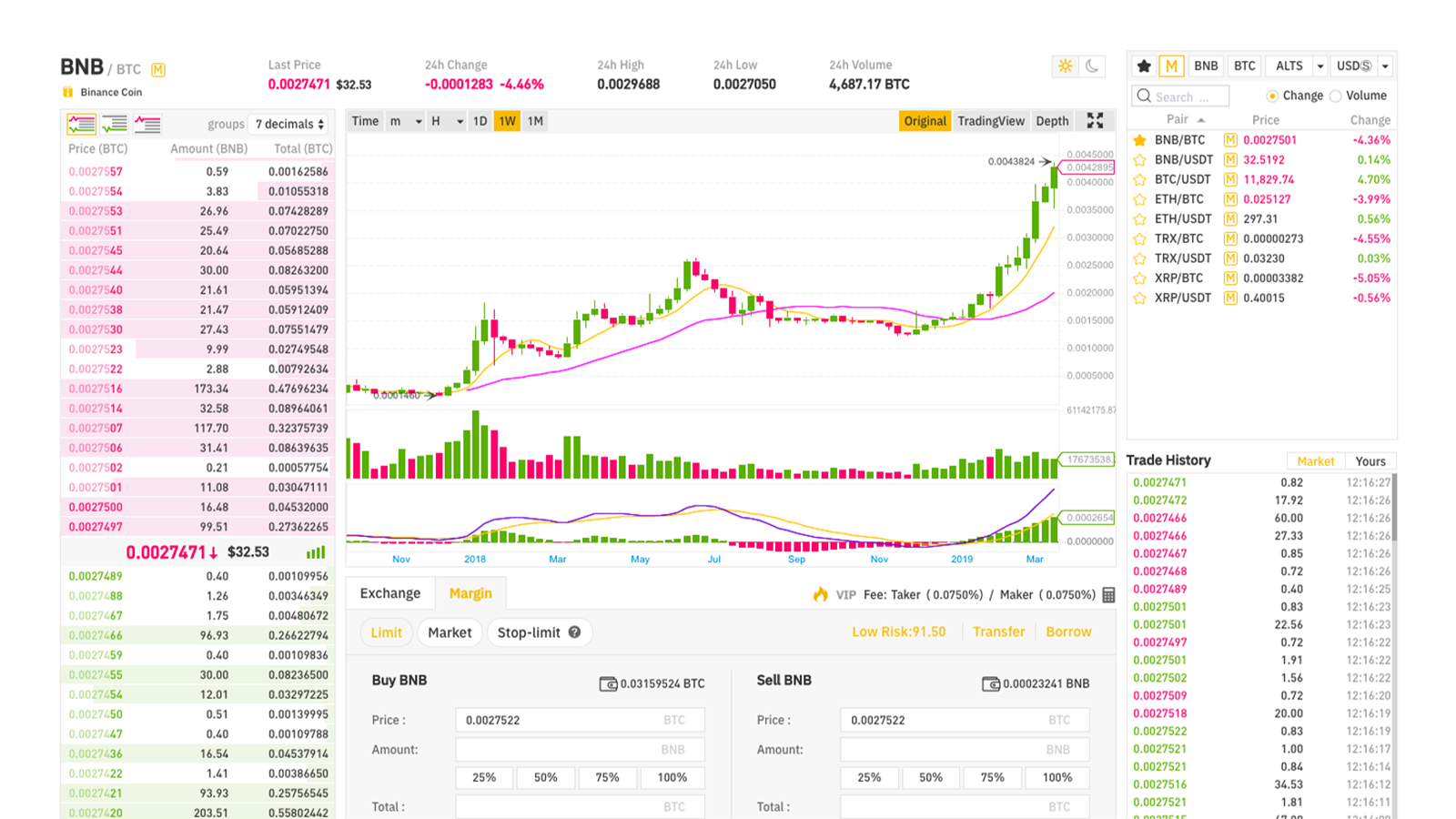 The Binance Margin Trading platform is hosted under a newly optimized interface for accessing both its exchange platform and the Margin function to better serve the fast-evolving cryptocurrency traders seamlessly within one user account and familiar interface. The 2.0 platform also features an advanced trading engine for better order matching and press indexes for margin level calculations to enable lower liquidations.
The new Binance 2.0 platform also allows its users to move funds easily from the Margin Wallet to their primary Binance Wallet without any transaction fees. Binance Margin provides the option to choose collaterals from a diverse spread of cryptocurrencies, also enabling users to pay for margin trading fees with Binance Coin (BNB).
Learn how Margin Trading on Binance works from Binance Academy's guide: https://www.binance.vision/tutorials/binance-margin-trading-guide