Canada-Based Crypto Exchange Awaits Ruling on $22 Million in Frozen Funds
Canada-based crypto exchange QuadrigaCX is waiting on a verdict in a long-running legal case against the Canadian Imperial Bank of Commerce (CIBC).
At the heart of the dispute is CA$28 million, or about $21.6 million in U.S. dollars. The case began in January 2018, when the CIBC froze multiple accounts opened by QuadrigaCX's payment processor, claiming that it was unable to determine whether the exchange or individuals who deposited funds to purchase cryptocurrencies owned the money in the accounts, the Globe and Mail reported Tuesday.
QuadrigaCX maintains that it owns the funds in the accounts opened by Costodian, Inc., but the CIBC is unsure. As such, it's asking the Vancouver courts to take ownership of the funds and determine whether the exchange, the payment processor or 388 individuals legally own the funds.
The frozen accounts are harming QuadrigaCX's customers too, the exchange has contended. Because the exchange cannot access the money, some customers face delays when attempting to withdraw their money from the platform.
In response to a request for comment, QuadrigaCX founder and CEO Gerald Cotten told CoinDesk that "to put it briefly, CIBC is currently holding nearly $28 [million Canadian dollars] of ours hostage and has been doing so since January."
"We went to court in June to sort it out, and are just waiting on the judge to issue his ruling at this point," he explained in an email.
Cotten referred further questions to counsel as the case is still ongoing.
However, a Reddit account purporting to represent the exchange said in a comment that "it is truly frightening how much power the banks have," adding that "we find it particularly troubling when they attack crypto companies and then create their own competing crypto projects."
It went on to say:
"After they realized that they faced a potentially massive lawsuit for the damages that they have caused, they went out of their way to discredit crypto, our customers that had sent wires, and anything else they could think of to retroactively justify freeziing [sic] an account while continuing to accept deposits for another month. In court things went pretty well for us. Now we just need to wait for the judge to issue his written judgement, which apparently takes a while in Ontario."
"As soon as the judge rules on this motion, we will be pursuing legal action against CIBC for the massive amount of damages they have caused," the account added.
Binance Launches Margin Trading Service for Evolving Cryptocurrency Traders
The global cryptocurrency exchange and blockchain ecosystem comprised of several arms to serve the greater mission of blockchain advancement, Binance, today announced the launch of its Margin Trading platform. As part of Binance's effort to help push the industry forward and freedom of money, the company is expanding its trading possibilities, similarly to existing leveraged trading features on traditional markets.
"This is another step in providing an inclusive cryptocurrency trading platform catering to the needs of both advanced institutional traders and retail traders under the same roof," said CEO of Binance, CZ (Changpeng Zhao). "We are providing a new tool in the financial services and cryptocurrency markets to help amplify trading results of successful trades."
Margin trading confers to a higher profit potential than traditional trading for leveraged positions, but also comes at a greater risk, which relates to the current volatility cryptocurrency market. Margin trading in cryptocurrency trading can be used to open both long and short positions, where a long position reflects an assumption that the price of the asset will go up, while a short position reflects the opposite. Binance hopes to continue informing and raising more awareness on conscious trading for its communities on margin accounts to help them realize better profitability, lower risks, and more portfolio diversification.
"Though the current cryptocurrency market and legacy platforms for margin trading poses greater risks and benefits at the same time, we are confident that its development coupled with more knowledge on proper risk management will help realize greater benefits in the long run," said Yi He, co-founder of Binance. "With margin trading being one of the most requested services from our community, this is a testament to the large market demand from retail and institutional traders alike and its promising possibilities in the future."
Binance 2.0: One Platform, Two Functions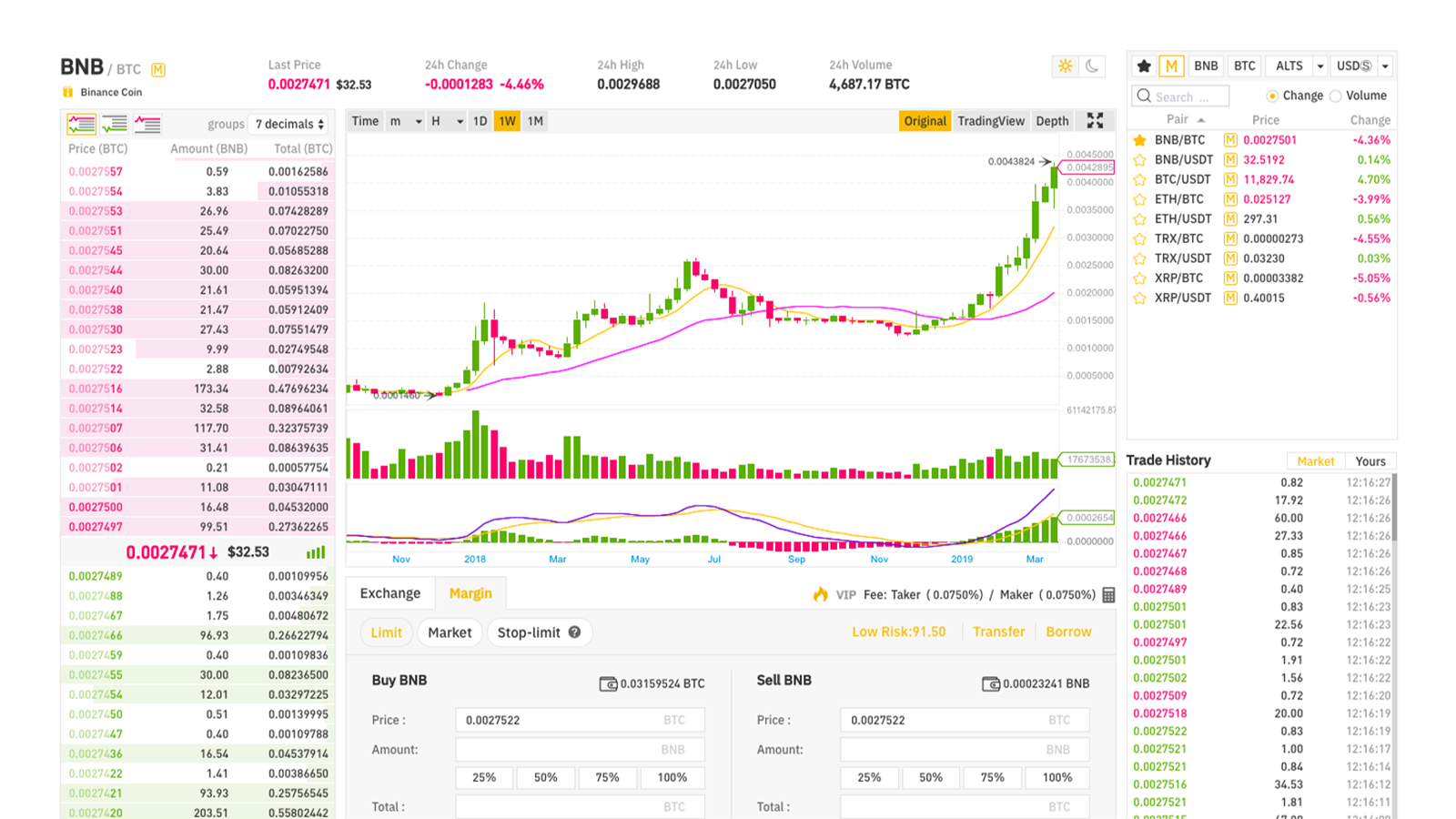 The Binance Margin Trading platform is hosted under a newly optimized interface for accessing both its exchange platform and the Margin function to better serve the fast-evolving cryptocurrency traders seamlessly within one user account and familiar interface. The 2.0 platform also features an advanced trading engine for better order matching and press indexes for margin level calculations to enable lower liquidations.
The new Binance 2.0 platform also allows its users to move funds easily from the Margin Wallet to their primary Binance Wallet without any transaction fees. Binance Margin provides the option to choose collaterals from a diverse spread of cryptocurrencies, also enabling users to pay for margin trading fees with Binance Coin (BNB).
Learn how Margin Trading on Binance works from Binance Academy's guide: https://www.binance.vision/tutorials/binance-margin-trading-guide