CLS's DLT Payment Netting Service Goes Live With Goldman Sachs and Morgan Stanley
CLSNet brings a bilateral payment netting service to over 120 currencies, optimizing intraday liquidity, improving operational efficiency, and reducing risk. Built in conjunction with IBM, it is the first global FX market enterprise application running on blockchain in production
CLS today announces that CLSNet, a standardized, automated bilateral payment netting service for over 120 currencies operating on a distributed ledger technology (DLT) platform, is now live with Goldman Sachs and Morgan Stanley. Six additional participants from North America, Europe and Asia, including Bank of China (Hong Kong), have committed to joining the service, with a steady onboarding of several other market participants planned in the next few months.
The service has been developed for, and in collaboration with, buy-side and sell-side institutions. CLSNet has been designed to standardize and increase the levels of payment netting in the FX market for trades not settling in CLSSettlement. By standardizing and automating the calculation of payment netting, CLSNet can reduce costs for market participants and increase liquidity in FX markets. The service also supports compliance with certain principles of the FX Global Code of Conduct.
Commenting on the launch, Alan Marquard, Chief Strategy and Development Officer, CLS, said, "We are excited to be launching CLSNet, the first service of its kind to be operated on a DLT platform. Further, this offering demonstrates how we are using our unique, trusted position at the center of the FX market to solve industry challenges.
"A standardized and automated payment netting process will lead to improved intraday liquidity, reduced cost, improved operational efficiencies and ultimately support business growth."
Currently, a lack of standardization and automation introduces risk and operational inefficiencies for market participants. A limited number of participants currently net with each other on a regular basis, however these processes often have manual intervention and are not fully standardized or scalable. The impact of limited payment netting is exacerbated by the high settlement costs associated with emerging market currencies, despite their increased relevance for FX market participants.
Further, there are many FX market participants that do not net the payments in respect of FX trades, instead choosing to settle on a gross basis. These gross payments have full exposure to settlement risk, resulting in higher intraday liquidity demands and causing institutions to hold more capital.
CLSNet was built in conjunction with IBM and runs on the Linux Foundation's Hyperledger Fabric blockchain framework. CLS's collaboration with IBM has produced valuable insights into the benefits that DLT can bring to post-trade processes. CLS will use the knowledge and experience gained from building this service on DLT architecture as it looks to create greater efficiencies and reduce costs for clients.
Adam Josephart, Managing Director, Fixed Income Division, Morgan Stanley, said, "CLSNet will deliver the standardization and automation needed for non-CLS settled transactions. We are delighted that Morgan Stanley is one of the early adopters of the service."
Barry Lo, General Manager, Bank-wide Operation Department of Bank of China (Hong Kong), said, "We take great pleasure in participating in CLSNet, which will enhance operational efficiency in trade matching and payment netting for non-CLS settled currencies such as CNH, and strengthen our risk management. This underscores our strong commitment to driving Fintech innovation and represents a major step forward in the application of new technology in our businesses."
"Since we first pioneered the use of blockchain in the FX market nearly three years ago, IBM has been working hard with CLS on the development and deployment of CLSNet as the first post-trade production deployment of blockchain technology in a global market utility," said Marie Wieck, General Manager, IBM Blockchain. "With CLSNet now in production with two of the world's largest banks, for a major market function, it is a testament to the ongoing maturity of blockchain technology and the value that it can deliver in practice."
Binance Launches Margin Trading Service for Evolving Cryptocurrency Traders
The global cryptocurrency exchange and blockchain ecosystem comprised of several arms to serve the greater mission of blockchain advancement, Binance, today announced the launch of its Margin Trading platform. As part of Binance's effort to help push the industry forward and freedom of money, the company is expanding its trading possibilities, similarly to existing leveraged trading features on traditional markets.
"This is another step in providing an inclusive cryptocurrency trading platform catering to the needs of both advanced institutional traders and retail traders under the same roof," said CEO of Binance, CZ (Changpeng Zhao). "We are providing a new tool in the financial services and cryptocurrency markets to help amplify trading results of successful trades."
Margin trading confers to a higher profit potential than traditional trading for leveraged positions, but also comes at a greater risk, which relates to the current volatility cryptocurrency market. Margin trading in cryptocurrency trading can be used to open both long and short positions, where a long position reflects an assumption that the price of the asset will go up, while a short position reflects the opposite. Binance hopes to continue informing and raising more awareness on conscious trading for its communities on margin accounts to help them realize better profitability, lower risks, and more portfolio diversification.
"Though the current cryptocurrency market and legacy platforms for margin trading poses greater risks and benefits at the same time, we are confident that its development coupled with more knowledge on proper risk management will help realize greater benefits in the long run," said Yi He, co-founder of Binance. "With margin trading being one of the most requested services from our community, this is a testament to the large market demand from retail and institutional traders alike and its promising possibilities in the future."
Binance 2.0: One Platform, Two Functions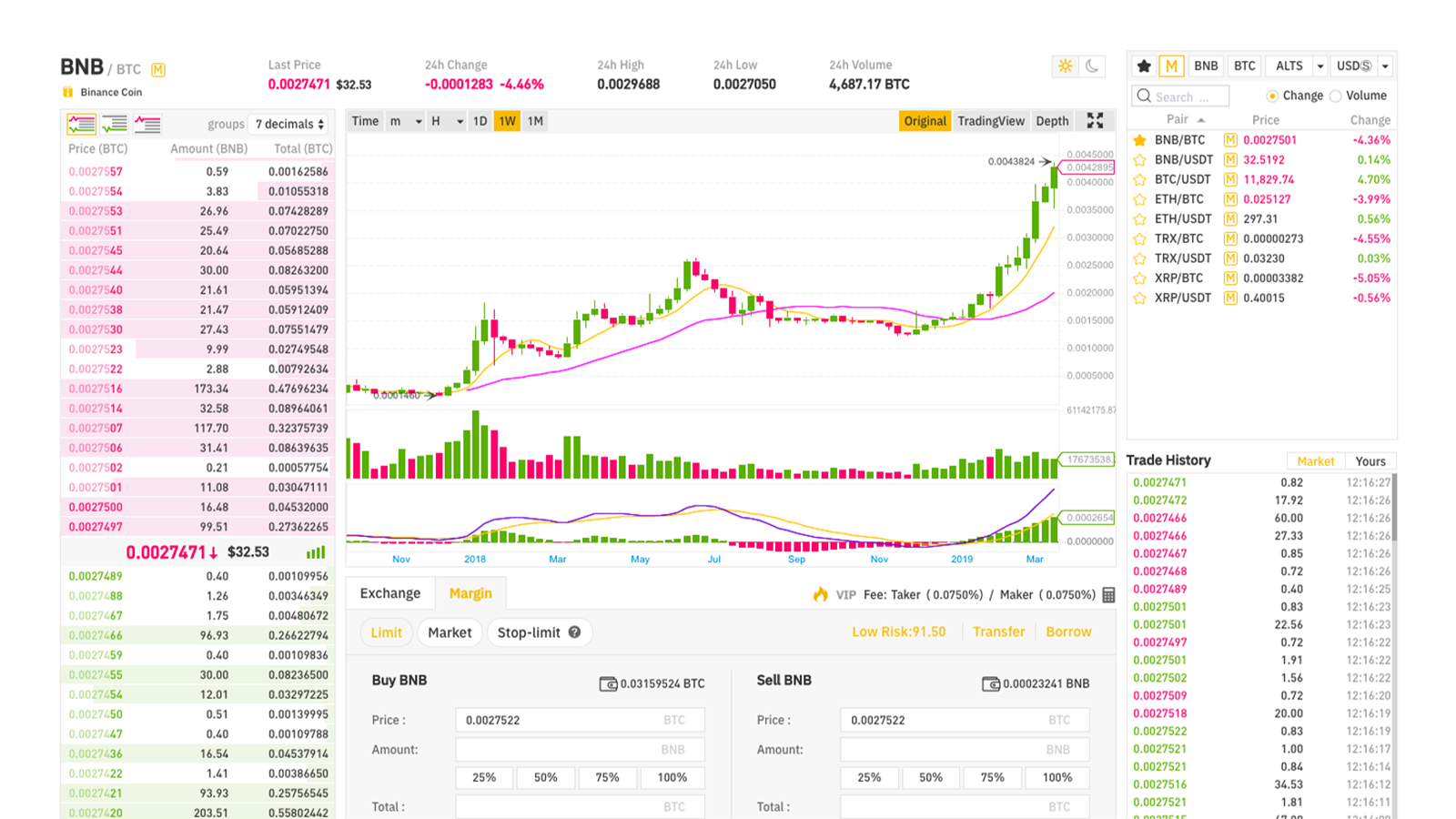 The Binance Margin Trading platform is hosted under a newly optimized interface for accessing both its exchange platform and the Margin function to better serve the fast-evolving cryptocurrency traders seamlessly within one user account and familiar interface. The 2.0 platform also features an advanced trading engine for better order matching and press indexes for margin level calculations to enable lower liquidations.
The new Binance 2.0 platform also allows its users to move funds easily from the Margin Wallet to their primary Binance Wallet without any transaction fees. Binance Margin provides the option to choose collaterals from a diverse spread of cryptocurrencies, also enabling users to pay for margin trading fees with Binance Coin (BNB).
Learn how Margin Trading on Binance works from Binance Academy's guide: https://www.binance.vision/tutorials/binance-margin-trading-guide