ConsenSys Spins Off Ethereum Startup Truffle To Take Blockchain To Big Business
Some of the largest companies in the world are already using the code that lies at the core of ethereum. A copy, or "fork," of ethereum powers Quorum, the enterprise-grade blockchain at the heart of JPMorgan's JPM Coin, a cryptocurrency designed to simplify payments between the giant bank's partners. The Depository Trust & Clearing Corporation (DTCC), which keeps the official records for $48 trillion worth of stocks, bonds, mutual funds and other assets, is moving a huge chunk of its records to AxCore, an ethereum-based blockchain.
But if the newly formed Truffle Blockchain Group has anything to say about it, that's just the beginning. The company, which quietly spun off from the troubled ethereum incubator ConsenSys earlier this year and makes the most widely used ethereum developer tools, has raised $3 million to expand into enterprise-grade solutions, as exclusively revealed to Forbes.
As part of that expansion Truffle today announced it is the first company to integrate with AxCore, a proprietary blockchain created by Goldman Sachs and JPMorgan-backed Axoni, and scheduled to start processing $10 trillion worth of transactions annually for the DTCC's Trade Information Warehouse later this year.
While this and other Truffle integrations also revealed today don't mean the DTCC or other enterprises will be using the ethereum cryptocurrency, they do mean that the developers behind high-profile, high-value projects can now build on the public ethereum blockchain, bridging the cryptocurrency world with enterprises in a new way.
"Enterprise adoption is finally happening because the maturity of our space is finally advancing to a level where enterprises can capitalize," says Wes McVay, vice president of partnerships at Truffle. "Not only that, but they have the funds to invest into making this the experience that it should be, the technology that it should be."
Binance Launches Margin Trading Service for Evolving Cryptocurrency Traders
The global cryptocurrency exchange and blockchain ecosystem comprised of several arms to serve the greater mission of blockchain advancement, Binance, today announced the launch of its Margin Trading platform. As part of Binance's effort to help push the industry forward and freedom of money, the company is expanding its trading possibilities, similarly to existing leveraged trading features on traditional markets.
"This is another step in providing an inclusive cryptocurrency trading platform catering to the needs of both advanced institutional traders and retail traders under the same roof," said CEO of Binance, CZ (Changpeng Zhao). "We are providing a new tool in the financial services and cryptocurrency markets to help amplify trading results of successful trades."
Margin trading confers to a higher profit potential than traditional trading for leveraged positions, but also comes at a greater risk, which relates to the current volatility cryptocurrency market. Margin trading in cryptocurrency trading can be used to open both long and short positions, where a long position reflects an assumption that the price of the asset will go up, while a short position reflects the opposite. Binance hopes to continue informing and raising more awareness on conscious trading for its communities on margin accounts to help them realize better profitability, lower risks, and more portfolio diversification.
"Though the current cryptocurrency market and legacy platforms for margin trading poses greater risks and benefits at the same time, we are confident that its development coupled with more knowledge on proper risk management will help realize greater benefits in the long run," said Yi He, co-founder of Binance. "With margin trading being one of the most requested services from our community, this is a testament to the large market demand from retail and institutional traders alike and its promising possibilities in the future."
Binance 2.0: One Platform, Two Functions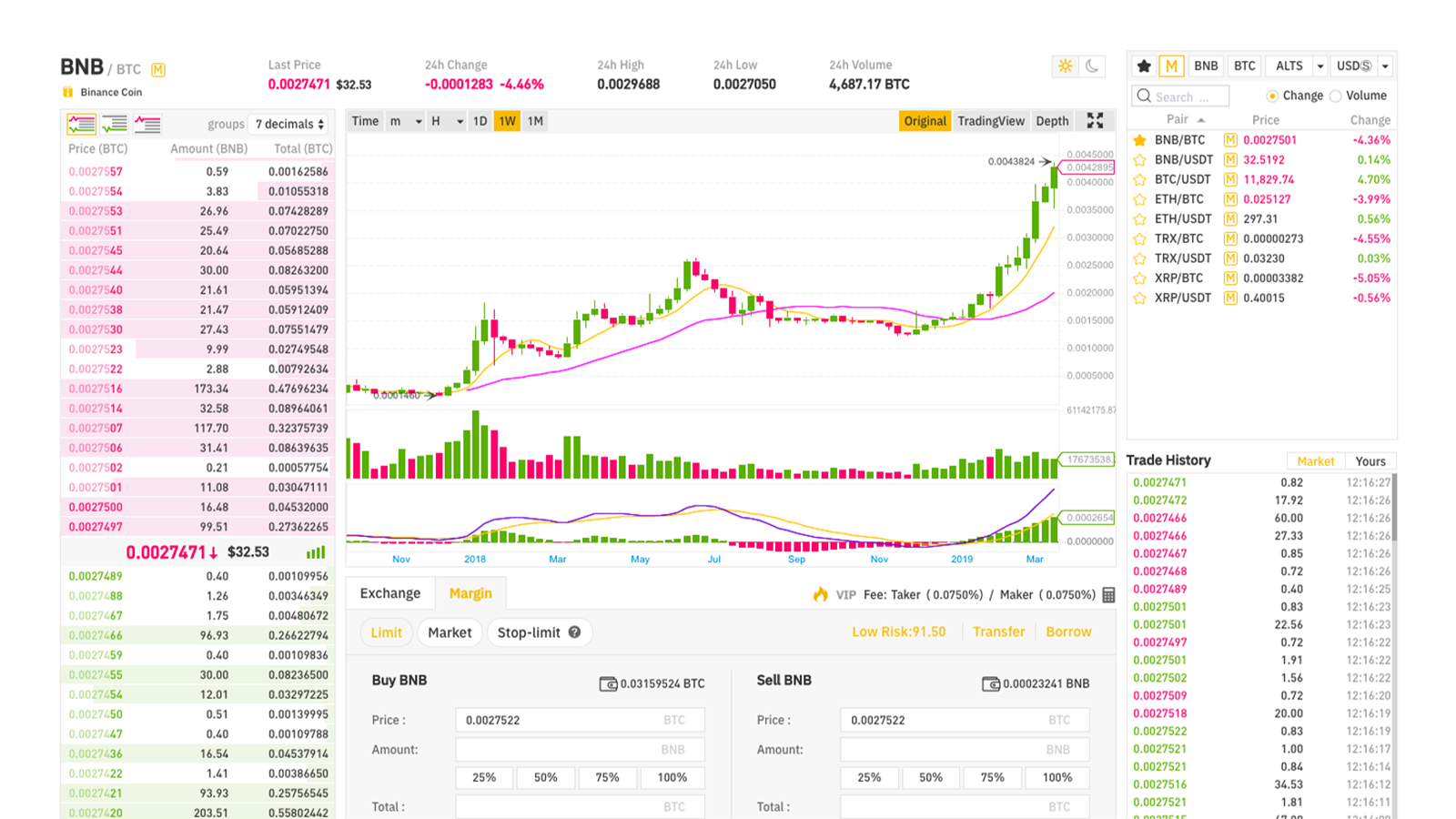 The Binance Margin Trading platform is hosted under a newly optimized interface for accessing both its exchange platform and the Margin function to better serve the fast-evolving cryptocurrency traders seamlessly within one user account and familiar interface. The 2.0 platform also features an advanced trading engine for better order matching and press indexes for margin level calculations to enable lower liquidations.
The new Binance 2.0 platform also allows its users to move funds easily from the Margin Wallet to their primary Binance Wallet without any transaction fees. Binance Margin provides the option to choose collaterals from a diverse spread of cryptocurrencies, also enabling users to pay for margin trading fees with Binance Coin (BNB).
Learn how Margin Trading on Binance works from Binance Academy's guide: https://www.binance.vision/tutorials/binance-margin-trading-guide