Crypto Exchange Cryptobulls the First Officially Registered Exchange in UAE
This will be the milestone for getting Global Investments opportunity from all over the Globe in UAE, as all nancial techs and investors are looking forward in Crypto & Block chain Industry. Cryptobulls will be the "rst Crypto exchange" from GCC countries after this Great Merger & association goes into action & in reference to regulations announced by The Abu Dhabi Government in ICOs & Digital Assets Crypto favorable.
This prudent partnership will provide both parties Al Zarooni Group & Cryptobulls exposure to richest markets and allow the cooperation the platform to creation of innovation nancial services. With this association Cryptobulls Exchange will become the rst ocial Crypto Exchange to be registered in UAE.
His Excellency Suhail Mohd. Al Zarooni (Guinness World Record Holder, Author, Chairman Al Zarooni Foundation & the Emirati Entrepreneur) Collaborated with Cryptobulls (Crypto Currency Exchange) and GCG (Gulf Coin Gold). The Memoran-dum of Agreement (MOU) was signed between the co-founders of Cryptobulls
Exchange – Shasha Gupta & Miss Madhu and His Excellency Suhail Mohd. Al Zarooni. In a bid to become a pioneer in Block chain technology, the UAE has launched the UAE Block chain Strategy 2021, pursuant to which 50% of government transactions will be conducted using block chain technology by 2021. To solidify its vision, regulations on the use of crypto assets, including crypto currencies, have recently been issued.
This collaboration was materialized after Mr. Obaid Al Zaabi, Chief Executive Ocer of Securities and Commodities Authority announced the green light for the regulator to consider ICO as securities earlier this month. The latest development is expected to be very positive for Cryptobulls Exchange. Meanwhile, with the huge global customer base of Cryptobulls Exchange and the collaboration with His Excellency Suhail Mohd. Al Zarooni it will be easier to bring its nancial services to more gulf countries. This will be new era in the world of crypto as one of the richest community all over globe i.e. GCC countries will be trading on the platform and another billions of Dollars investment in trading crypto asset will be pouring in, from the Globe.
Binance Launches Margin Trading Service for Evolving Cryptocurrency Traders
The global cryptocurrency exchange and blockchain ecosystem comprised of several arms to serve the greater mission of blockchain advancement, Binance, today announced the launch of its Margin Trading platform. As part of Binance's effort to help push the industry forward and freedom of money, the company is expanding its trading possibilities, similarly to existing leveraged trading features on traditional markets.
"This is another step in providing an inclusive cryptocurrency trading platform catering to the needs of both advanced institutional traders and retail traders under the same roof," said CEO of Binance, CZ (Changpeng Zhao). "We are providing a new tool in the financial services and cryptocurrency markets to help amplify trading results of successful trades."
Margin trading confers to a higher profit potential than traditional trading for leveraged positions, but also comes at a greater risk, which relates to the current volatility cryptocurrency market. Margin trading in cryptocurrency trading can be used to open both long and short positions, where a long position reflects an assumption that the price of the asset will go up, while a short position reflects the opposite. Binance hopes to continue informing and raising more awareness on conscious trading for its communities on margin accounts to help them realize better profitability, lower risks, and more portfolio diversification.
"Though the current cryptocurrency market and legacy platforms for margin trading poses greater risks and benefits at the same time, we are confident that its development coupled with more knowledge on proper risk management will help realize greater benefits in the long run," said Yi He, co-founder of Binance. "With margin trading being one of the most requested services from our community, this is a testament to the large market demand from retail and institutional traders alike and its promising possibilities in the future."
Binance 2.0: One Platform, Two Functions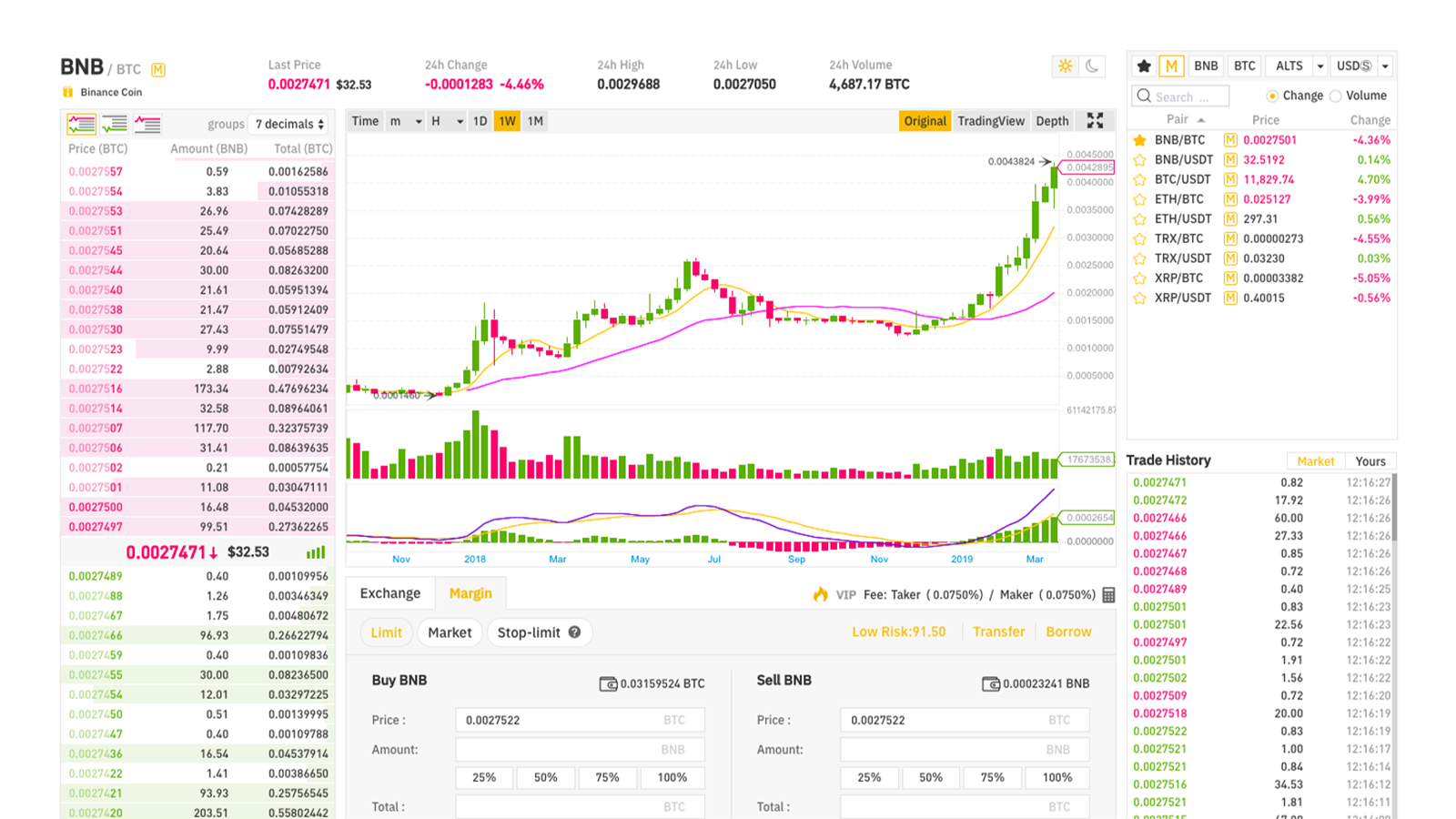 The Binance Margin Trading platform is hosted under a newly optimized interface for accessing both its exchange platform and the Margin function to better serve the fast-evolving cryptocurrency traders seamlessly within one user account and familiar interface. The 2.0 platform also features an advanced trading engine for better order matching and press indexes for margin level calculations to enable lower liquidations.
The new Binance 2.0 platform also allows its users to move funds easily from the Margin Wallet to their primary Binance Wallet without any transaction fees. Binance Margin provides the option to choose collaterals from a diverse spread of cryptocurrencies, also enabling users to pay for margin trading fees with Binance Coin (BNB).
Learn how Margin Trading on Binance works from Binance Academy's guide: https://www.binance.vision/tutorials/binance-margin-trading-guide