Crypto Exchange Founder Filed Will 12 Days Before He Died
Gerald Cotten, the Canadian behind cryptocurrency exchange Quadriga CX, filed a will 12 days before his death listing substantial assets, according to court documents.
Cotten, whose sudden death left C$190 million ($145 million) in Bitcoin and other digital assets protected by his passwords unretrievable, signed his last will and testament on Nov. 27, 2018. He left all his assets to his wife, Jennifer Robertson, and made her the executor to his estate, the documents show.
Nova Scotia Supreme Court Justice Michael Wood granted Quadriga a 30-day stay on Tuesday in a bid to stop any lawsuits from proceeding against the company at this time, the Canadian Press reported. The Vancouver-based firm was also granted protection from creditors.
The exchange, launched in December 2013, allowed users to deposit cash or cryptocurrency through its online trading platform, storing the digital coins on blockchain ledgers that are accessible only by an immutable alphanumeric code. The company had 363,000 registered users, of which 92,000 have account balances owing to them in cash or cryptocurrencies, according to court filings. Cotten was the sole officer and director.
Cotten died Dec. 9 of complications due to Crohn's disease in Jaipur, India, according to Robertson's affidavit and a statement of death from J.A. Snow Funeral Home in Halifax, dated Dec. 12. He was 30. The couple, who lived in the Halifax suburb of Fall River in Nova Scotia, didn't have any children.
The exchange founder's will outlines numerous assets he held, including several properties in Nova Scotia and in Kelowna, British Columbia, a 2017 Lexus, an airplane, a Jeanneau 51 yacht and his pet chihuahuas, Nitro and Gully. He also left his frequent flier points and reward points to Robertson. He held accounts with Bank of Montreal and Canadian Tire.
The firm can't retrieve about C$190 million in Bitcoin, Litecoin, Ether and other digital tokens held for its customers, nor can Vancouver-based Quadriga CX pay the C$70 million in cash those clients are owed.
Binance Launches Margin Trading Service for Evolving Cryptocurrency Traders
The global cryptocurrency exchange and blockchain ecosystem comprised of several arms to serve the greater mission of blockchain advancement, Binance, today announced the launch of its Margin Trading platform. As part of Binance's effort to help push the industry forward and freedom of money, the company is expanding its trading possibilities, similarly to existing leveraged trading features on traditional markets.
"This is another step in providing an inclusive cryptocurrency trading platform catering to the needs of both advanced institutional traders and retail traders under the same roof," said CEO of Binance, CZ (Changpeng Zhao). "We are providing a new tool in the financial services and cryptocurrency markets to help amplify trading results of successful trades."
Margin trading confers to a higher profit potential than traditional trading for leveraged positions, but also comes at a greater risk, which relates to the current volatility cryptocurrency market. Margin trading in cryptocurrency trading can be used to open both long and short positions, where a long position reflects an assumption that the price of the asset will go up, while a short position reflects the opposite. Binance hopes to continue informing and raising more awareness on conscious trading for its communities on margin accounts to help them realize better profitability, lower risks, and more portfolio diversification.
"Though the current cryptocurrency market and legacy platforms for margin trading poses greater risks and benefits at the same time, we are confident that its development coupled with more knowledge on proper risk management will help realize greater benefits in the long run," said Yi He, co-founder of Binance. "With margin trading being one of the most requested services from our community, this is a testament to the large market demand from retail and institutional traders alike and its promising possibilities in the future."
Binance 2.0: One Platform, Two Functions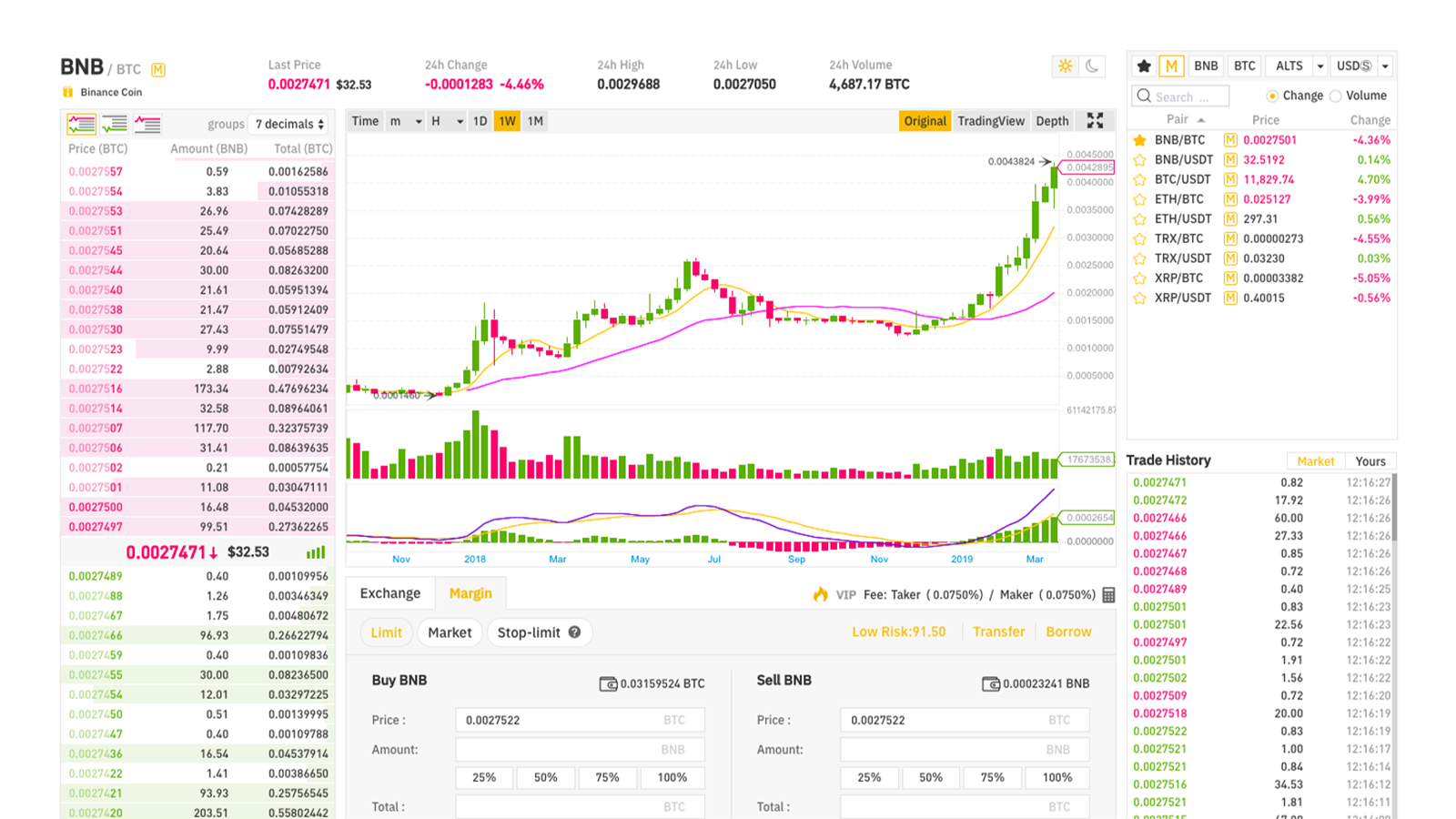 The Binance Margin Trading platform is hosted under a newly optimized interface for accessing both its exchange platform and the Margin function to better serve the fast-evolving cryptocurrency traders seamlessly within one user account and familiar interface. The 2.0 platform also features an advanced trading engine for better order matching and press indexes for margin level calculations to enable lower liquidations.
The new Binance 2.0 platform also allows its users to move funds easily from the Margin Wallet to their primary Binance Wallet without any transaction fees. Binance Margin provides the option to choose collaterals from a diverse spread of cryptocurrencies, also enabling users to pay for margin trading fees with Binance Coin (BNB).
Learn how Margin Trading on Binance works from Binance Academy's guide: https://www.binance.vision/tutorials/binance-margin-trading-guide