deVere Launches Actively Managed Cryptocurrency Solution
A pioneering actively managed cryptocurrency solution has today been launched by one of the world's largest independent financial advisory organisations. deVere Group has founded the deVere Digital Asset Funds, a suite of digital currency solutions for experienced investors, in association with Dalma Capital Management Limited, a prominent hedge fund manager in the Dubai International Financial Centre.
It comes a day after Bitcoin, the world's original digital currency, and still largest by market capitalization, reached its 10th anniversary. Nigel Green, founder and CEO of deVere Group, comments: "Cryptocurrencies are now undeniably part of mainstream finance.
"Their momentum continues to gain traction as both retail and institutional investors increasingly value the need and demand for digital, global currencies in today's ever-more digitalised and globalised world. The crypto market continues to expand considerably, with mass adoption on the horizon. These actively managed cryptocurrency solutions address growing demand by clients who want the potential associated benefits of exposure to the digital currency sector – which typically include portfolio diversification and decent returns – but with reduced volatility for which the market is known."
He continues: "The deVere Digital Asset solution will invest in a diversified portfolio of digital assets via algorithmic trading over different platforms – including crypto-currency exchanges and OTC markets – as well as arbitrage opportunities."
"Through a ground-breaking algorithmic system, when the price of one asset, for instance Bitcoin or Ethereum, is greater on one platform than on another, the opportunity is identified to generate profit from the difference of price across platforms. These trades, referred to as arbitrage, allow profits to be generated with little or no directional market risk."
Zachary Cefaratti, CEO of Dalma Capital comments: "Crypto Asset Markets abound with durable inefficiencies – creating opportunities for hedge funds to generate uncorrelated excess returns through systematic relative value arbitrage, momentum trading and mean-reversion strategies."
He adds: "Crypto Markets have created opportunities that we have not seen in conventional markets for decades. Arbitrage opportunities abound – the prices of the top 25 crypto assets vary across over 400 liquidity venues. The ability to trade long and short allows profit opportunities regardless of market direction."
The deVere Digital Asset Platform is to be showcased at the forthcoming Alternative Investment Management (AIM) Summit taking place in Dubai on 26-27 November at the Ritz Carlton hotel.
Mr Green concludes: "We're confident due to our custom-developed platform, which analyses market data and suggests rebalancing that's best suited for the current market, will be a market leading investment solution in the digital currency space.
"The launch today of the deVere Digital Asset strategies underscores our ongoing commitment to reshaping and redefining the way financial services are delivered through fintech [financial technology], which we believe is a positive force for individuals, businesses and society."
Binance Launches Margin Trading Service for Evolving Cryptocurrency Traders
The global cryptocurrency exchange and blockchain ecosystem comprised of several arms to serve the greater mission of blockchain advancement, Binance, today announced the launch of its Margin Trading platform. As part of Binance's effort to help push the industry forward and freedom of money, the company is expanding its trading possibilities, similarly to existing leveraged trading features on traditional markets.
"This is another step in providing an inclusive cryptocurrency trading platform catering to the needs of both advanced institutional traders and retail traders under the same roof," said CEO of Binance, CZ (Changpeng Zhao). "We are providing a new tool in the financial services and cryptocurrency markets to help amplify trading results of successful trades."
Margin trading confers to a higher profit potential than traditional trading for leveraged positions, but also comes at a greater risk, which relates to the current volatility cryptocurrency market. Margin trading in cryptocurrency trading can be used to open both long and short positions, where a long position reflects an assumption that the price of the asset will go up, while a short position reflects the opposite. Binance hopes to continue informing and raising more awareness on conscious trading for its communities on margin accounts to help them realize better profitability, lower risks, and more portfolio diversification.
"Though the current cryptocurrency market and legacy platforms for margin trading poses greater risks and benefits at the same time, we are confident that its development coupled with more knowledge on proper risk management will help realize greater benefits in the long run," said Yi He, co-founder of Binance. "With margin trading being one of the most requested services from our community, this is a testament to the large market demand from retail and institutional traders alike and its promising possibilities in the future."
Binance 2.0: One Platform, Two Functions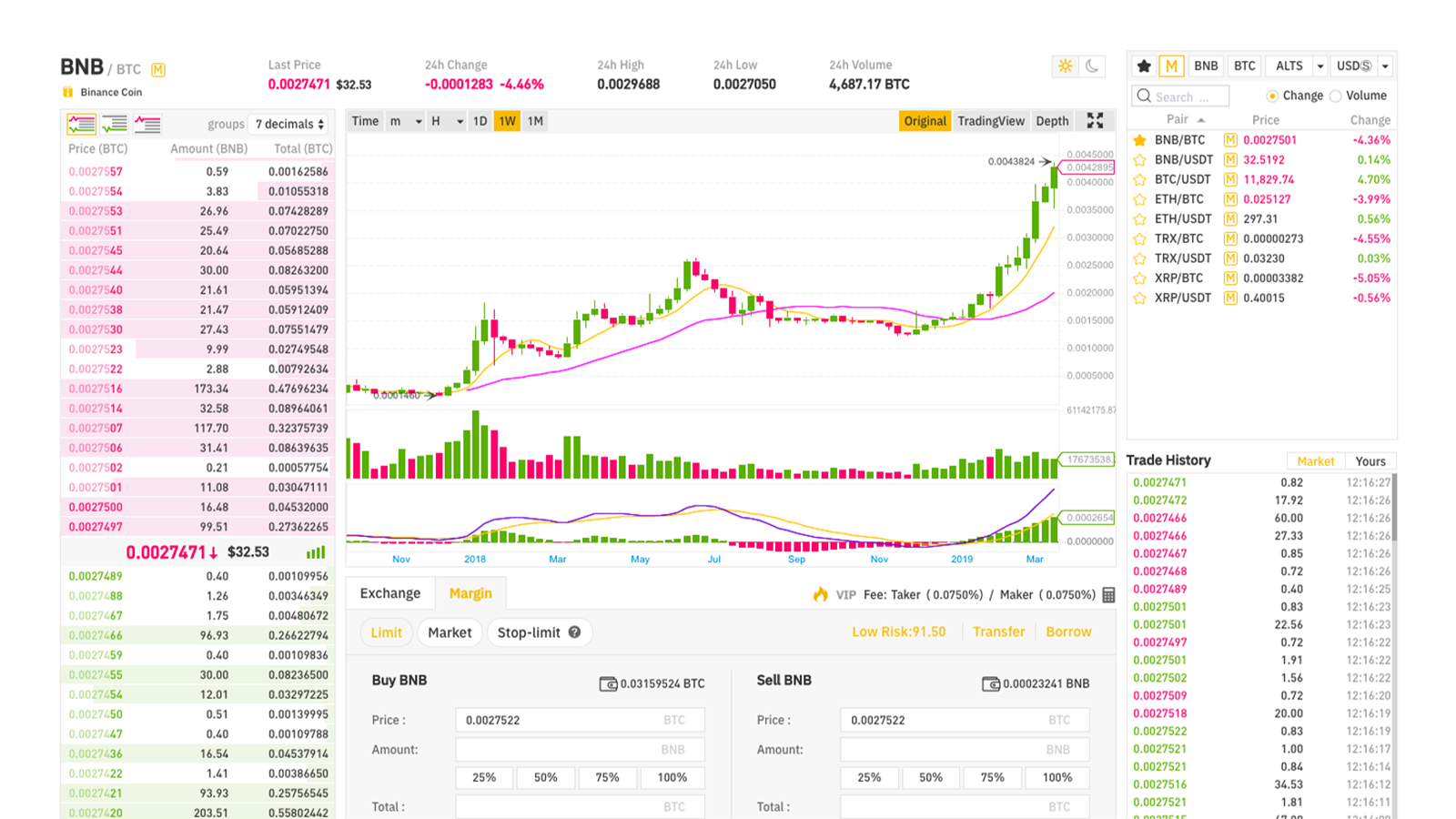 The Binance Margin Trading platform is hosted under a newly optimized interface for accessing both its exchange platform and the Margin function to better serve the fast-evolving cryptocurrency traders seamlessly within one user account and familiar interface. The 2.0 platform also features an advanced trading engine for better order matching and press indexes for margin level calculations to enable lower liquidations.
The new Binance 2.0 platform also allows its users to move funds easily from the Margin Wallet to their primary Binance Wallet without any transaction fees. Binance Margin provides the option to choose collaterals from a diverse spread of cryptocurrencies, also enabling users to pay for margin trading fees with Binance Coin (BNB).
Learn how Margin Trading on Binance works from Binance Academy's guide: https://www.binance.vision/tutorials/binance-margin-trading-guide