Digital Currency Operators Must Comply With Rules: Bank of Japan's Amamiya
Digital platform operators such as Facebook, planning to launch a new global cryptocurrency called Libra, must comply with regulations on money laundering and risk management, Bank of Japan Deputy Governor Masayoshi Amamiya said on Friday. They must act responsibly and comply with various regulations to take root as providers of safe and secure payment settlements, Amamiya told a Reuters Newsmaker event.
While details of Facebook Inc's (FB.O) cryptocurrency plan remain sketchy, central banks must be vigilant to the impact such moves could have on their country's banking and settlement systems, he added.
"As for Libra, we must bear in mind that the potential global user-base could be enormous," Amamiya said.
Facebook last month announced its plan to launch Libra within the first half of 2020, part of an effort to expand beyond social media to digital payments. The project has prompted some European central bankers to claim oversight to ensure it would not jeopardize the financial system or be used to lauder money. Global central banks have so far largely refrained from regulating digital currencies, having failed last year to reach an agreement on how to do so and concluding they were too small to pose a risk to the financial system.
Cryptocurrencies remain one of the least-regulated areas of finance, and the response of domestic and international financial regulators and monetary authorities to the Libra project will have a crucial impact on its prospects.
Rapid changes in financial innovation have also led some central banks to consider issuing digital currencies, or at least study the feasibility of doing so in the future.
Amamiya said the BOJ had no plans to issue digital currencies for now partly due to uncertainties over how it affects conventional commercial banking.
"If central bank digital currencies replace private deposits, that could erode commercial banks' credit channels and have a negative impact on the economy," Amamiya said.
He also brushed aside the idea that central banks can boost the effectiveness of negative interest rate policies by issuing digital currencies. If central banks issue digital currencies and apply negative rates on them, households and companies will hold cash instead to avoid being charged for holding digital currencies, he said.
"To overcome the nominal zero lower bound, central banks would need to eliminate cash," Amamiya said. "Eliminating cash would make settlement infrastructure inconvenient for the public, so no central bank would do this."
Binance Launches Margin Trading Service for Evolving Cryptocurrency Traders
The global cryptocurrency exchange and blockchain ecosystem comprised of several arms to serve the greater mission of blockchain advancement, Binance, today announced the launch of its Margin Trading platform. As part of Binance's effort to help push the industry forward and freedom of money, the company is expanding its trading possibilities, similarly to existing leveraged trading features on traditional markets.
"This is another step in providing an inclusive cryptocurrency trading platform catering to the needs of both advanced institutional traders and retail traders under the same roof," said CEO of Binance, CZ (Changpeng Zhao). "We are providing a new tool in the financial services and cryptocurrency markets to help amplify trading results of successful trades."
Margin trading confers to a higher profit potential than traditional trading for leveraged positions, but also comes at a greater risk, which relates to the current volatility cryptocurrency market. Margin trading in cryptocurrency trading can be used to open both long and short positions, where a long position reflects an assumption that the price of the asset will go up, while a short position reflects the opposite. Binance hopes to continue informing and raising more awareness on conscious trading for its communities on margin accounts to help them realize better profitability, lower risks, and more portfolio diversification.
"Though the current cryptocurrency market and legacy platforms for margin trading poses greater risks and benefits at the same time, we are confident that its development coupled with more knowledge on proper risk management will help realize greater benefits in the long run," said Yi He, co-founder of Binance. "With margin trading being one of the most requested services from our community, this is a testament to the large market demand from retail and institutional traders alike and its promising possibilities in the future."
Binance 2.0: One Platform, Two Functions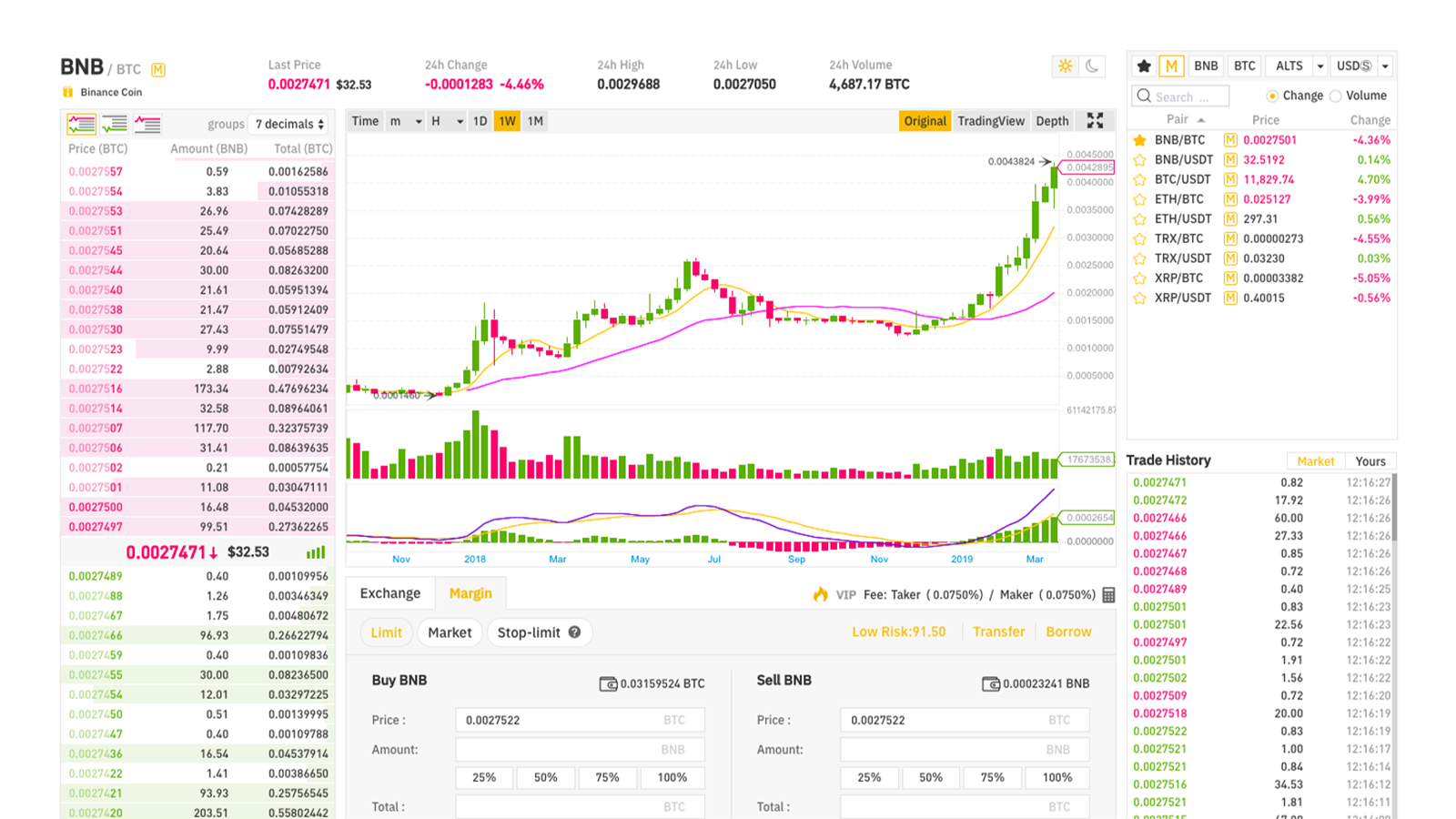 The Binance Margin Trading platform is hosted under a newly optimized interface for accessing both its exchange platform and the Margin function to better serve the fast-evolving cryptocurrency traders seamlessly within one user account and familiar interface. The 2.0 platform also features an advanced trading engine for better order matching and press indexes for margin level calculations to enable lower liquidations.
The new Binance 2.0 platform also allows its users to move funds easily from the Margin Wallet to their primary Binance Wallet without any transaction fees. Binance Margin provides the option to choose collaterals from a diverse spread of cryptocurrencies, also enabling users to pay for margin trading fees with Binance Coin (BNB).
Learn how Margin Trading on Binance works from Binance Academy's guide: https://www.binance.vision/tutorials/binance-margin-trading-guide