Nvidia's Crypto Problem May be Bigger Than it Admits, According to an Analyst Who Crunched the Numbers
Nvidia's crypto problem is bigger than it admits, an RBC analyst says after crunching the numbers. By his calculation, the total crypto revenue from April 2017 to July 2018 should be around $2.75 billion, based on the hash rate of ethereum and other cryptocurrencies that require graphics processing units. Steves estimates Nvidia captured around 75% of the total crypto market during that period and AMD captured the rest. There is no way to actually confirm the numbers, according to Steves.
"We think NVDA generated $1.95 billion in total revenue related to crypto/blockchain," RBC analyst Mitch Steves said in a note out Wednesday. "This compares to company's statement that it generated around $602 million over the same time period."
Steves said that AMD's recent earnings release added another piece of evidence that Nvidia's exposure to crypto should be higher than it revealed. On Tuesday, AMD said it expects its first-quarter revenue to be approximately $1.25 billion — down 24% year-over-year — due to "excess channel inventory, the absence of blockchain-related GPU revenue and lower memory sales."
AMD's guidance implied it had crypto exposure of $234 million in the first quarter of 2018, which roughly matches the 25% of the total crypto revenue, Steves noted.
Nvidia has long warned about the potential for crypto headwinds following the boom and bust in digital currencies. In August, CEO Jensen Huang said he was expecting "essentially no cryptocurrency" business moving forward. And then in November, in the company's third-quarter earnings release, he noted Nvidia's "near-term results reflect excess channel inventory post the crypto-currency boom, which will be corrected."
"While Nvidia and AMD have suggested that the crypto currency overhang will be a one quarter issue, we think it is more likely a two quarter issue given new market dynamics," Steves said in November.
Based on his calculation of Nvidia's historical crypto revenue, Steves lowered his price target for Nvidia from $200 to $180 and noted that the company's revenue will bottom in the second quarter.
Nvidia was up 8% so far this year.
Binance Launches Margin Trading Service for Evolving Cryptocurrency Traders
The global cryptocurrency exchange and blockchain ecosystem comprised of several arms to serve the greater mission of blockchain advancement, Binance, today announced the launch of its Margin Trading platform. As part of Binance's effort to help push the industry forward and freedom of money, the company is expanding its trading possibilities, similarly to existing leveraged trading features on traditional markets.
"This is another step in providing an inclusive cryptocurrency trading platform catering to the needs of both advanced institutional traders and retail traders under the same roof," said CEO of Binance, CZ (Changpeng Zhao). "We are providing a new tool in the financial services and cryptocurrency markets to help amplify trading results of successful trades."
Margin trading confers to a higher profit potential than traditional trading for leveraged positions, but also comes at a greater risk, which relates to the current volatility cryptocurrency market. Margin trading in cryptocurrency trading can be used to open both long and short positions, where a long position reflects an assumption that the price of the asset will go up, while a short position reflects the opposite. Binance hopes to continue informing and raising more awareness on conscious trading for its communities on margin accounts to help them realize better profitability, lower risks, and more portfolio diversification.
"Though the current cryptocurrency market and legacy platforms for margin trading poses greater risks and benefits at the same time, we are confident that its development coupled with more knowledge on proper risk management will help realize greater benefits in the long run," said Yi He, co-founder of Binance. "With margin trading being one of the most requested services from our community, this is a testament to the large market demand from retail and institutional traders alike and its promising possibilities in the future."
Binance 2.0: One Platform, Two Functions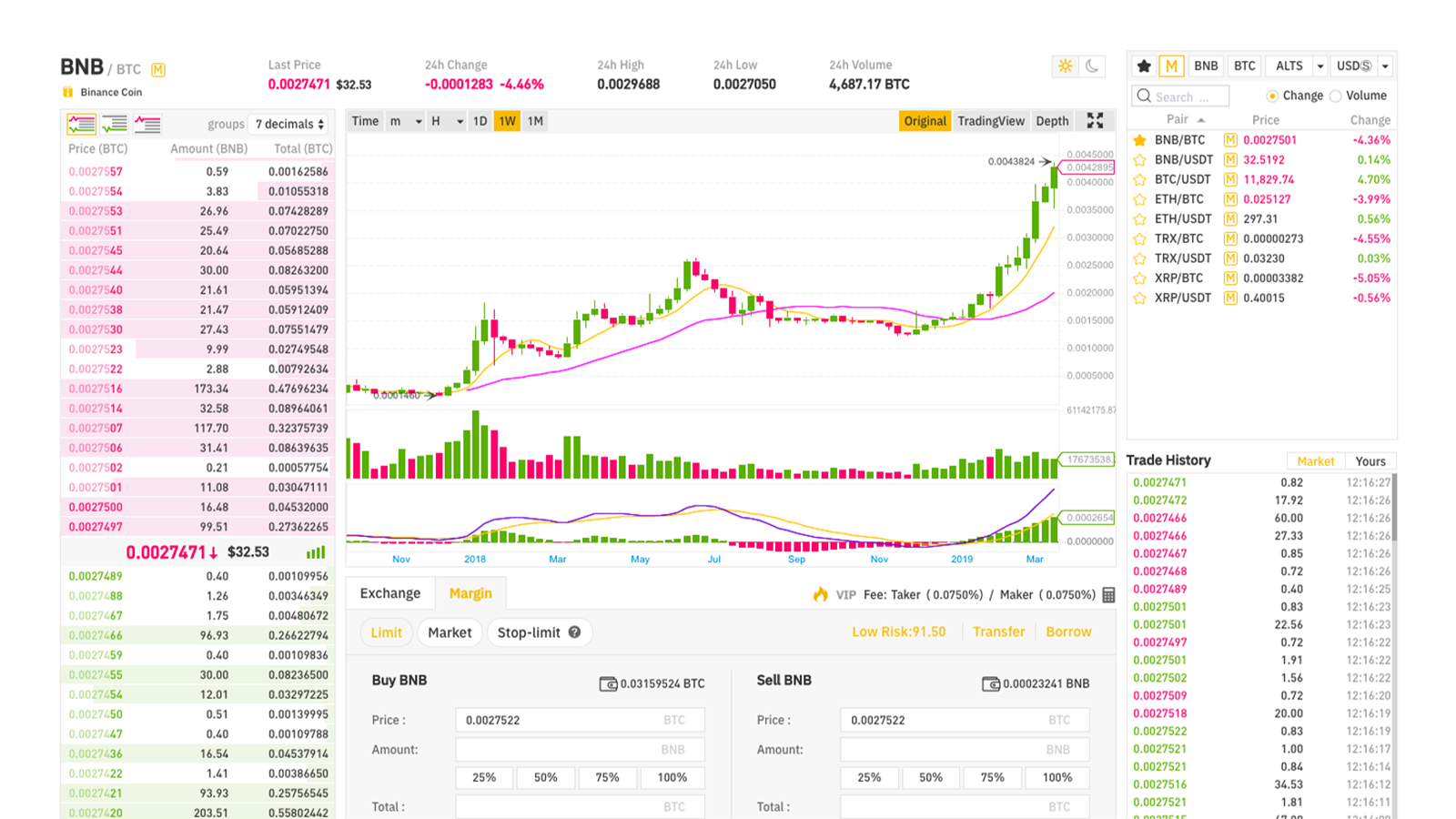 The Binance Margin Trading platform is hosted under a newly optimized interface for accessing both its exchange platform and the Margin function to better serve the fast-evolving cryptocurrency traders seamlessly within one user account and familiar interface. The 2.0 platform also features an advanced trading engine for better order matching and press indexes for margin level calculations to enable lower liquidations.
The new Binance 2.0 platform also allows its users to move funds easily from the Margin Wallet to their primary Binance Wallet without any transaction fees. Binance Margin provides the option to choose collaterals from a diverse spread of cryptocurrencies, also enabling users to pay for margin trading fees with Binance Coin (BNB).
Learn how Margin Trading on Binance works from Binance Academy's guide: https://www.binance.vision/tutorials/binance-margin-trading-guide