Promise Software Launching Post Quantum Secure Peer-to-Peer Payment Network
Promise Software Inc. today announces the publication and launch of its Blockchain Protocol called Promise, a new Post Quantum, Non-Interactive Zero Knowledge Proofs and Proxy Re-signature payments network for on-chain and decentralized credit reputation building. Promise benefits include globally accessible, private business transactions secured against quantum computing attacks. Promise customers may also use the Promise blockchain for automated payment processing, without the need to risk their private keys.
In response to advances in quantum computing financial transaction data once secured by elliptic curve cryptography are at the greatest risk of exposure. Companies that conduct transactions on the blockchain may have their private keys exposed as quantum computers target logarithm computing functions. Secondly, the manual nature of blockchain transaction signature creation requires that business sign each transaction with their private key, increasing the risk that funds may be stolen or privacy lost.
Promise delivers a new standard in privacy and security with quantum resistant signatures built to withstand quantum computation attacks. Promise also enables advanced automation with proxy re-signature functionality that allows for 3rd party payment processing, without the need to place business private keys at risk. These innovative protocol features were developed with leading cryptographers Alan Szepieniec and Professor Giuseppe Ateniese.
"I was drawn to the Promise team's focus on making the blockchain useful for the millions of people around the world who desperately need a way to establish and build business credit," says Giuseppe Ateniese, Chair in Computer Science at Stevens Institute of Technology. "I look forward to seeing more useful payments innovation using proxy re-signing cryptography."
With over 125 million small businesses worldwide, Promise offers a globally secure business and credit platform so businesses may now conduct private, secure global payments with decentralized credit reputations, unavailable anywhere else.
According to Taariq Lewis, "Most of the world's important business transactions are private transactions. Quantum computers are here and improving daily. On the 10th anniversary of the publishing of the bitcoin whitepaper, today is the perfect time for a quantum resistant, public blockchain that delivers the privacy, security and low cost of capital access that any business, around the world, may use to grow and succeed."
Binance Launches Margin Trading Service for Evolving Cryptocurrency Traders
The global cryptocurrency exchange and blockchain ecosystem comprised of several arms to serve the greater mission of blockchain advancement, Binance, today announced the launch of its Margin Trading platform. As part of Binance's effort to help push the industry forward and freedom of money, the company is expanding its trading possibilities, similarly to existing leveraged trading features on traditional markets.
"This is another step in providing an inclusive cryptocurrency trading platform catering to the needs of both advanced institutional traders and retail traders under the same roof," said CEO of Binance, CZ (Changpeng Zhao). "We are providing a new tool in the financial services and cryptocurrency markets to help amplify trading results of successful trades."
Margin trading confers to a higher profit potential than traditional trading for leveraged positions, but also comes at a greater risk, which relates to the current volatility cryptocurrency market. Margin trading in cryptocurrency trading can be used to open both long and short positions, where a long position reflects an assumption that the price of the asset will go up, while a short position reflects the opposite. Binance hopes to continue informing and raising more awareness on conscious trading for its communities on margin accounts to help them realize better profitability, lower risks, and more portfolio diversification.
"Though the current cryptocurrency market and legacy platforms for margin trading poses greater risks and benefits at the same time, we are confident that its development coupled with more knowledge on proper risk management will help realize greater benefits in the long run," said Yi He, co-founder of Binance. "With margin trading being one of the most requested services from our community, this is a testament to the large market demand from retail and institutional traders alike and its promising possibilities in the future."
Binance 2.0: One Platform, Two Functions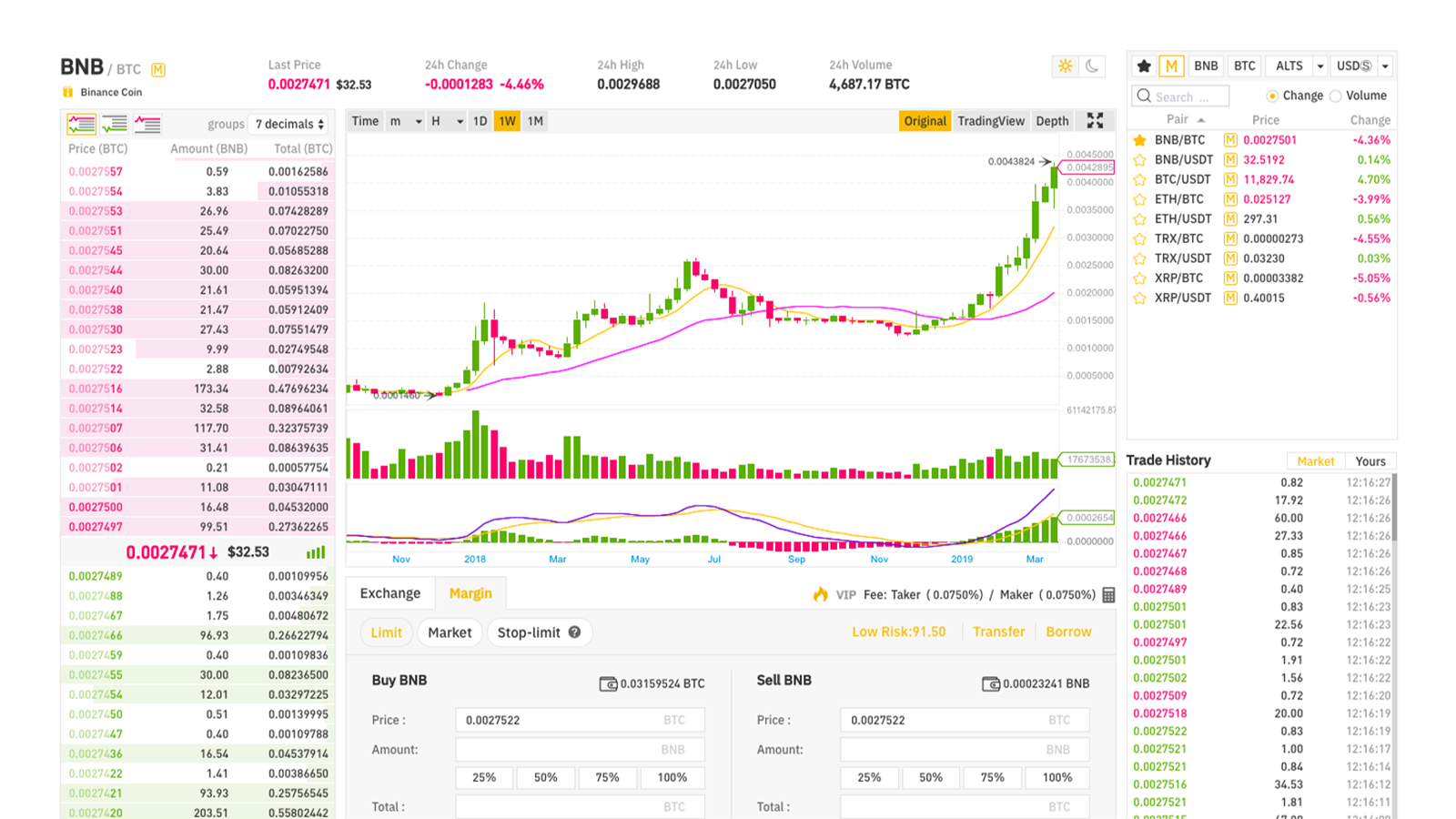 The Binance Margin Trading platform is hosted under a newly optimized interface for accessing both its exchange platform and the Margin function to better serve the fast-evolving cryptocurrency traders seamlessly within one user account and familiar interface. The 2.0 platform also features an advanced trading engine for better order matching and press indexes for margin level calculations to enable lower liquidations.
The new Binance 2.0 platform also allows its users to move funds easily from the Margin Wallet to their primary Binance Wallet without any transaction fees. Binance Margin provides the option to choose collaterals from a diverse spread of cryptocurrencies, also enabling users to pay for margin trading fees with Binance Coin (BNB).
Learn how Margin Trading on Binance works from Binance Academy's guide: https://www.binance.vision/tutorials/binance-margin-trading-guide