Social Gaming Platform Offers Crypto Community Unrivalled Multi – Gaming Experience with Fair Odds
With the explosion in crypto-based online gambling in recent years, the social-gaming community has come to expect not only innovation and interface interaction but also a wider range of games that deliver real payouts with fair odds
The number of crypto gaming platforms on the market is wide but few offer a range of a diversity of options to the gambler of today – that is until now.
Introducing NanoGames – The Fair Odds & Social Gaming Alternative
NanoGames is a crypto-based online social gambling site that offers industry-beating odds with four very different games.
With more coins planned for the future, users play using Nano, Bitcoin, Ethereum, and Banano. It's simple to get started and only takes a few minutes; all that is needed is to setup an account, load some credit and then select the game that you want to play!
In addition, all users are offered the chance to play in multiplayer mode so that you can pit yourself against your friends.
Big Wins with Reduced Loss Odds – Four Great Games
With a growing community, NanoGames offers four great games that give players the chance to score large wins with minimal losses and fair odds. As a purely crypto-gaming focused platform and after extensive trials with users and now offer four easy to play games:
Crash – Offering the best odds with the lowest chances of losing your bet, Crash gives players the chance to cash out at any time with a multiplier – take your winnings and earn more.
Black Jack – Based on the popular game of 21's the aim is to beat the dealer – one of the most popular games on the platform the game offers great multiplayer options for you and your friends.
Hash Dice – Established by blockchain as a hash value calculation and algorithm, Hash Dice is a probability game where the player sets a predicted interval and clicks roll – easy to play and fair!
Nonce Dice – using cryptocurrency to guess the nonce value of an Ethereum new height, players guess high – medium or low (or even zero). Simple to play a game with odds that cannot be manipulated.
The Social Gaming Platform with Accessibility for All
NanoGames have worked closely with the gaming community to develop the right games for the market – fair probabilities and easy to use formats has ensured user loyalty.
To allow users the chance to try the game before they confirm their own funds, new users receive complimentary coins in the shape of the CUB coin – in short, you can try before you buy!
The More You Play the More You Earn
As the NanoGames community grows, so does the number of users. With a number of top daily rewards, multi-gaming bonuses, and referral schemes there is also a great opportunity to earn more!
Equally, if you are not the gaming type but still want to make money you can invest in the NanoGames bankroll – invest and grow your investment with a passive income, the more that is invested the more you make.
With great multiplayer games, fair odds and big wins – join the NanoGames community today!
About NanoGames: NanoGames is an innovative online platform that offers users the chance to play four crypto-based gambling games with great odds, community chat and the chance to win with daily and experience-based rewards. NanoGames also accepts all major cryptocurrencies and actively encourages social-referrals. For more information please visit our homepage.
Binance Launches Margin Trading Service for Evolving Cryptocurrency Traders
The global cryptocurrency exchange and blockchain ecosystem comprised of several arms to serve the greater mission of blockchain advancement, Binance, today announced the launch of its Margin Trading platform. As part of Binance's effort to help push the industry forward and freedom of money, the company is expanding its trading possibilities, similarly to existing leveraged trading features on traditional markets.
"This is another step in providing an inclusive cryptocurrency trading platform catering to the needs of both advanced institutional traders and retail traders under the same roof," said CEO of Binance, CZ (Changpeng Zhao). "We are providing a new tool in the financial services and cryptocurrency markets to help amplify trading results of successful trades."
Margin trading confers to a higher profit potential than traditional trading for leveraged positions, but also comes at a greater risk, which relates to the current volatility cryptocurrency market. Margin trading in cryptocurrency trading can be used to open both long and short positions, where a long position reflects an assumption that the price of the asset will go up, while a short position reflects the opposite. Binance hopes to continue informing and raising more awareness on conscious trading for its communities on margin accounts to help them realize better profitability, lower risks, and more portfolio diversification.
"Though the current cryptocurrency market and legacy platforms for margin trading poses greater risks and benefits at the same time, we are confident that its development coupled with more knowledge on proper risk management will help realize greater benefits in the long run," said Yi He, co-founder of Binance. "With margin trading being one of the most requested services from our community, this is a testament to the large market demand from retail and institutional traders alike and its promising possibilities in the future."
Binance 2.0: One Platform, Two Functions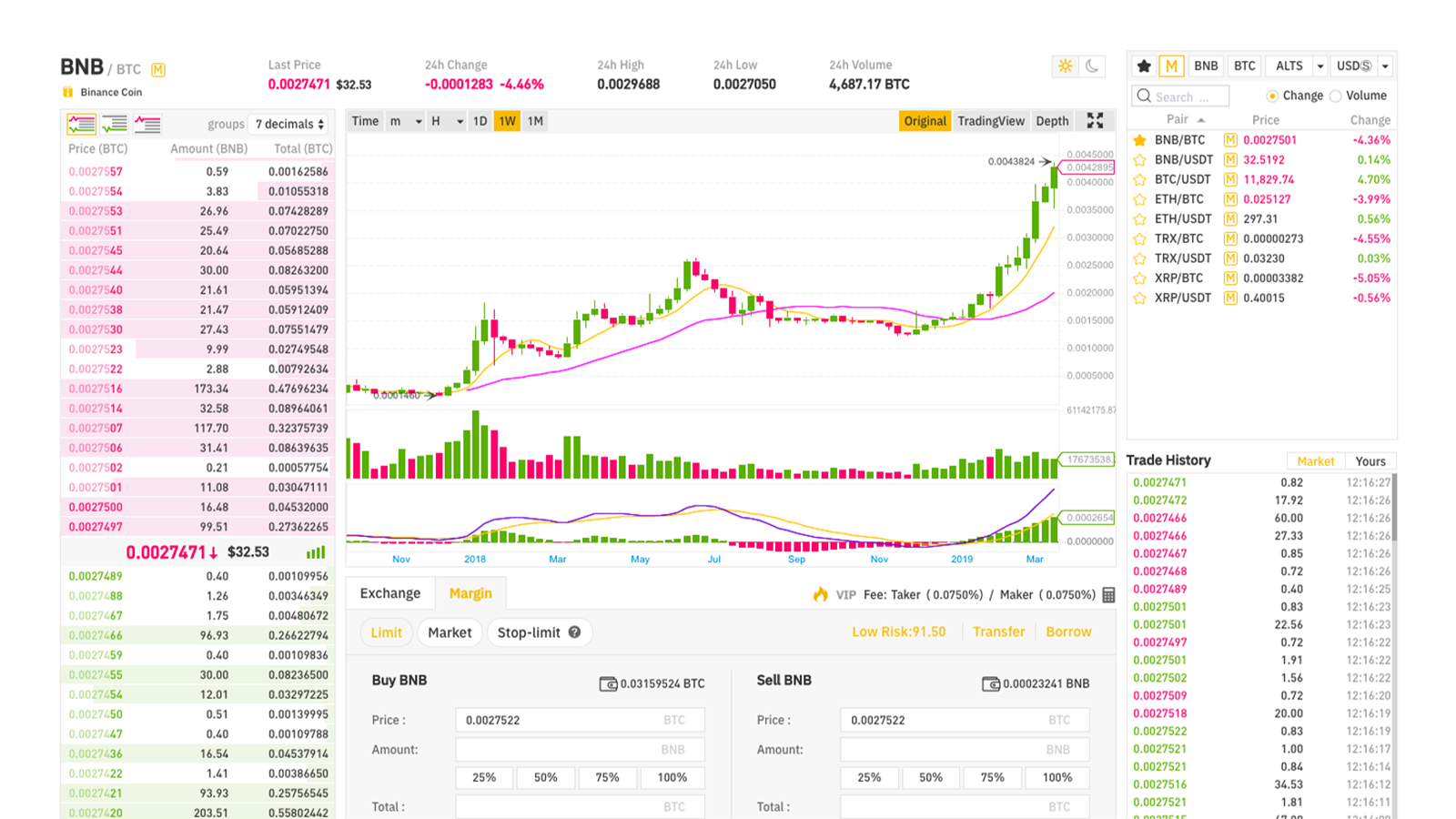 The Binance Margin Trading platform is hosted under a newly optimized interface for accessing both its exchange platform and the Margin function to better serve the fast-evolving cryptocurrency traders seamlessly within one user account and familiar interface. The 2.0 platform also features an advanced trading engine for better order matching and press indexes for margin level calculations to enable lower liquidations.
The new Binance 2.0 platform also allows its users to move funds easily from the Margin Wallet to their primary Binance Wallet without any transaction fees. Binance Margin provides the option to choose collaterals from a diverse spread of cryptocurrencies, also enabling users to pay for margin trading fees with Binance Coin (BNB).
Learn how Margin Trading on Binance works from Binance Academy's guide: https://www.binance.vision/tutorials/binance-margin-trading-guide