Some Crypto Investors Find a Way of Playing it Safe
After the volatile cryptocurrency price swings of the last few years, some investors are becoming content with essentially earning interest on their holdings.
They're embracing a practice known as staking, where their tokens are placed in so-called digital wallets and used to help validate transactions that create new blocks in blockchain networks. In exchange they receive rewards in the form of coins. The proof-of-stake process can generate returns ranging from 5 percent to 150 percent, depending on the coins and amount held.
That's a big change from how transactions are verified for Bitcoin, which follows a proof-of-work system where so-called miners compete to solve complex mathematical riddles and win new coins. With token prices showing few signs of recovering after plunging as much as 90 percent in 2018, the staking has made it somewhat easier for investors in coins such as Tezos, Decred, Cosmos, EOS and Livepeer to endure the bear market.
"Regardless of market conditions, staking provides returns denominated in the asset being staked," said Kyle Samani, managing partner at Multicoin Capital Management in Austin, Texas. "If you're going to be long, you might as well stake."
The practice, also known as forging, has given rise to a cottage industry of specialized startups, with names like Staked, EON Staking Inc. and Figment. Many new crypto custody services, such as Anchorage, are also starting to offer staking as well. EON, which is launching a staking-as-a-service offering in February, will charge a 5 percent fee on the interest its clients earn.
Staked announce Thursday that it raised $4.5 million from Pantera Capital Management, Coinbase Inc., Digital Currency Group and other investors. Anchorage, which launched on Jan. 23 and says its clients include venture capitalist Andreessen Horowitz, which is also an investor, and crypto asset investment firm Paradigm, offers coin custody and staking for institutional customers.
"As we see more proof-of-stake protocols emerge, the ability to stake your tokens and earn interest from staking is a great way to make money," said Paul Veradittakit, a partner at Menlo Park, California-based Pantera. "An ability to make strong consistent returns."
Staking does carry risks. When coins are staked, it can take hours or days for the networks to free them up for trading. That means that investors may miss a market rally or get caught up in a plunge. There's also some regulatory uncertainty over whether the coins issued as rewards can ever be viewed as securities. Some staking companies, such as Figment, have created special repurchase agreements for clients to minimize potential tax implications. The investors have to trust the startups doing the staking for them, too.
"Staking requires a certain amount of trust, unlike proof-of-work," said Aaron Brown, an investor who writes for Bloomberg Opinion. "My observation to date is when crypto requires trust, disaster follows. It's usually reported as hacking, but it is usually insider malfeasance or gross negligence. So while I don't specifically predict problems, no one should be surprised if they crop up."
Investors may be able to test that out soon with Ethereum. The third-largest cryptocurrency is expected to shift to a proof-of-stake system as part of a network software upgrade later this year. There are more than 100 coins using such systems, according to Poslist.org.
"There may be a big part for staking in proof-of-stake systems in a mature crypto economy, but today it's something investors should do at their own risk only," Brown said.
Binance Launches Margin Trading Service for Evolving Cryptocurrency Traders
The global cryptocurrency exchange and blockchain ecosystem comprised of several arms to serve the greater mission of blockchain advancement, Binance, today announced the launch of its Margin Trading platform. As part of Binance's effort to help push the industry forward and freedom of money, the company is expanding its trading possibilities, similarly to existing leveraged trading features on traditional markets.
"This is another step in providing an inclusive cryptocurrency trading platform catering to the needs of both advanced institutional traders and retail traders under the same roof," said CEO of Binance, CZ (Changpeng Zhao). "We are providing a new tool in the financial services and cryptocurrency markets to help amplify trading results of successful trades."
Margin trading confers to a higher profit potential than traditional trading for leveraged positions, but also comes at a greater risk, which relates to the current volatility cryptocurrency market. Margin trading in cryptocurrency trading can be used to open both long and short positions, where a long position reflects an assumption that the price of the asset will go up, while a short position reflects the opposite. Binance hopes to continue informing and raising more awareness on conscious trading for its communities on margin accounts to help them realize better profitability, lower risks, and more portfolio diversification.
"Though the current cryptocurrency market and legacy platforms for margin trading poses greater risks and benefits at the same time, we are confident that its development coupled with more knowledge on proper risk management will help realize greater benefits in the long run," said Yi He, co-founder of Binance. "With margin trading being one of the most requested services from our community, this is a testament to the large market demand from retail and institutional traders alike and its promising possibilities in the future."
Binance 2.0: One Platform, Two Functions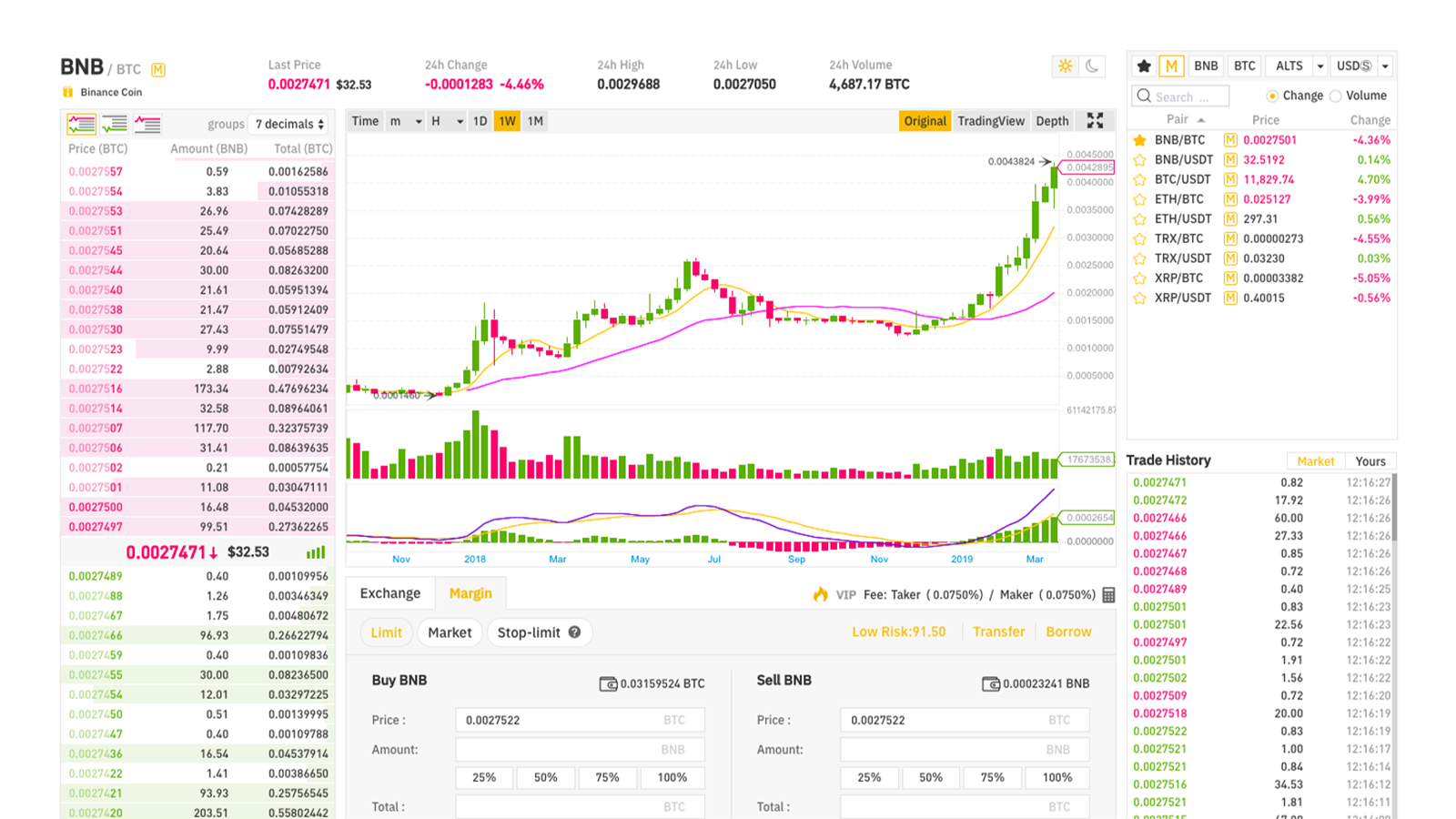 The Binance Margin Trading platform is hosted under a newly optimized interface for accessing both its exchange platform and the Margin function to better serve the fast-evolving cryptocurrency traders seamlessly within one user account and familiar interface. The 2.0 platform also features an advanced trading engine for better order matching and press indexes for margin level calculations to enable lower liquidations.
The new Binance 2.0 platform also allows its users to move funds easily from the Margin Wallet to their primary Binance Wallet without any transaction fees. Binance Margin provides the option to choose collaterals from a diverse spread of cryptocurrencies, also enabling users to pay for margin trading fees with Binance Coin (BNB).
Learn how Margin Trading on Binance works from Binance Academy's guide: https://www.binance.vision/tutorials/binance-margin-trading-guide