Fake Movie File Infects PC to Steal Cryptocurrency
A malicious Windows shortcut file posing as a movie via The Pirate Bay torrent tracker can trigger a chain of mischievous activities on your computer, like injecting content from the attacker into high-profile web sites such as Wikipedia, Google and Yandex Search or by stealing cryptocurrency.
Malware on TPB is not a new thing, but the method used to infect a victim's computer and the large amount of varied malicious activities discovered by BleepingComputer are quite interesting.
It started when security researcher 0xffff0800 found a nasty surprise in the files for the movie The Girl in the Spider's Web (official trailer – it's a hacker movie) downloaded from TPB. At that time, the movie had 2,375 seeders.
Instead of a video file, he found a .LNK shortcut that executed a PowerShell command. The icon of the file attracted his attention, so he ran it through VirusTotal antivirus scanning service.

The results returned a low detection rate and indicated a sample of CozyBear, a piece of malware used by an advanced threat actor known by the same name and a few others (APT29, CozyDuke, CozyCar, Grizzly Bear). The group was discovered in 2015 and is still active, targeting Windows platforms.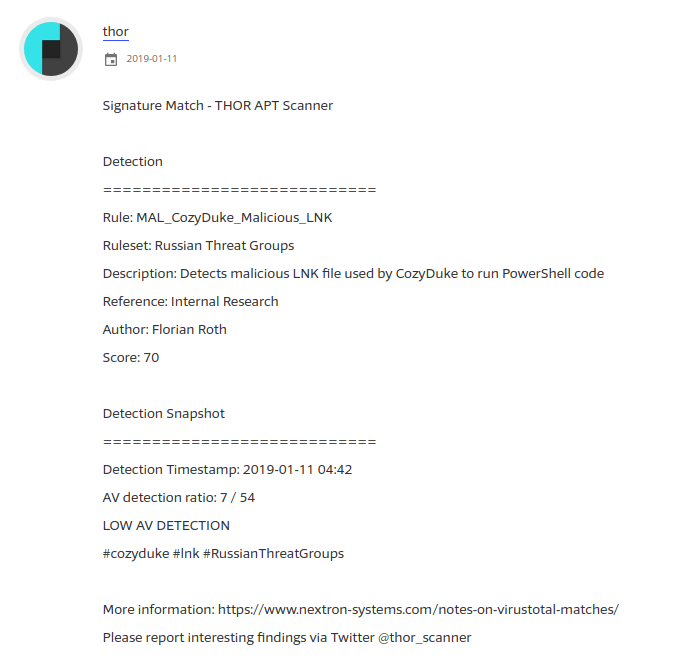 One of the infection methods still used by the group relies on a weaponized .LNK file that runs a PowerShell command and extracts a script from the shortcut file.
The CozyBear detection was a false one, though. Nick Carr, a member of the FireEye's Advanced Practices Team, said that weaponized .LNK files are common in pirated content.
Crypto Exchange Bitsane to Announce a New Game-changing Feature – Active Trade Orders Editing
Bitsane announced the launch of a new option – the ability to edit active orders, which is now available to Bitsane users. This exclusive option allows traders to adjust the price and the volume of their active orders. In this case, the price of an order may be changed by up to 5%, and the change of order volume will not be limited. This option enables users to respond to the currency fluctuations, avoid mistakes, and to achieve the maximum result while trading is conducted on the Bitsane platform.
A significant increase in the number of market participants demonstrates the main rule: when trading platform is selected, users put first usability, safety and advanced trading opportunities. It has motivated the Bitsane team to introduce the option which has been mentioned.
For three years, the team has been improving and developing the service for users. Bitsane has integrated with TabTrader Trading Terminal, granting its users the opportunity to utilize all the tools for trading within one app. Platform has listed new currencies one of which is Tether and has become the first exchange to add unique Tether/Euro trading pair.
Bitsane is a European cryptocurrency exchange which was launched in 2016. A convenient system of cross-currency trading allows users to choose the desirable pair for trading, and thus grants the ability to save both time and money. Users' funds are effectively protected by a "cold storage" system with an enhanced level of security. These advantages create a perfect basis for an active trading.
Over 20 top popular cryptocurrencies are available on the trading platform, such as BTC, LTC, ETH, USDT, XRP, EUR, USD, BCH, BSV and others.