The Next Frontier of Cryptoexchanges: "iCoinbay's Innovative Insurance System"
iCoinbay, a cryptocurrency exchange, recently introduced a new method of operation for the industry called Trading Premium Gain (TPG). This new method is a tokenized, community-based crypto-asset exchange which allows platform users to increase their earnings through normal trading activities by having a stake in the exchange's earnings in token form. All community members who have the token can enjoy extra revenue through what is known as "Trading Premium Gain."
iCoinbay has three key features described below, in addition to precise computing based on a mathematical model which prevents the flow of funds from being disrupted by a decrease in the influx of new users, avoiding the collapse of the platform.
1. The Equity Token
Tokens have an inherent value and all tokens issued by a first-rate blockchain system should be linked to the real economy and service the real economy. The token economy is a system that realizes large-scale and strong coordination among community members by setting a mechanism of positive and negative incentives. Therefore, exchanges rooted in community development should be constructed as a decentralized token economic entity.
The aim of iCoinbay is to allow users to have a right to a portion of exchange earnings in token (TPG) form by giving these users a total of 70% of exchange revenue. iCoinbay will distribute 70% of the previous week's income to community members weekly, based on the proportion of TPG held.
This represents iCoinbay's aim of realizing a "token economy" theory. In the process of realizing this aim, complete asset transparency has been achieved and can be seen on the asset transparency information page.
2. The Economic Theory
The iCoinbay operation rewards users' normal usage of the platform as contribution to the community, and those who generate transaction fees are awarded TPG tokens worth 100% of the value of the transaction fees. This philosophy aims to build a fair, cooperative community.
Meanwhile, iCoinbay also sets corresponding punishment measures during the construction of the community, which aim to punish negative actions of community members by suspending or withdrawing tokens. This is the negative incentive mentioned in the "token economy" theory.
3. The Integration of Traditional Financial Theory and "Token Economy" Theory
The most innovative point of iCoinbay is the built-in insurance, which is specifically designed to protect the value of TPG. Although the premium only accounts for 0.025% of the transaction amount, TPG holders are assured that after 100 days, regardless of how the market moves, their token can be exchanged for stable coins at the token's originally issued price.
In this way, TPG users may enjoy extra revenue and earnings from any increase in the currency's value and need not worry about the risk of currency value depreciation. The establishment of an insurance mechanism fully embodies the integration of traditional financial means and token economic theory based on establishing a perfect verifiable economic mechanism. Investors and industry observers alike are enthusiastic to see how this new approach can positively reform the industry.
In this competitive age of cryptocurrency exchanges, TPG is set to deliver a new concept to the industry, demonstrating iCoinbay's unique capabilities and potential. While the eventual cryptocurrency exchange winner remains uncertain, iCoinbay is intent on providing answers to some of the fascinating questions.
Binance Launches Margin Trading Service for Evolving Cryptocurrency Traders
The global cryptocurrency exchange and blockchain ecosystem comprised of several arms to serve the greater mission of blockchain advancement, Binance, today announced the launch of its Margin Trading platform. As part of Binance's effort to help push the industry forward and freedom of money, the company is expanding its trading possibilities, similarly to existing leveraged trading features on traditional markets.
"This is another step in providing an inclusive cryptocurrency trading platform catering to the needs of both advanced institutional traders and retail traders under the same roof," said CEO of Binance, CZ (Changpeng Zhao). "We are providing a new tool in the financial services and cryptocurrency markets to help amplify trading results of successful trades."
Margin trading confers to a higher profit potential than traditional trading for leveraged positions, but also comes at a greater risk, which relates to the current volatility cryptocurrency market. Margin trading in cryptocurrency trading can be used to open both long and short positions, where a long position reflects an assumption that the price of the asset will go up, while a short position reflects the opposite. Binance hopes to continue informing and raising more awareness on conscious trading for its communities on margin accounts to help them realize better profitability, lower risks, and more portfolio diversification.
"Though the current cryptocurrency market and legacy platforms for margin trading poses greater risks and benefits at the same time, we are confident that its development coupled with more knowledge on proper risk management will help realize greater benefits in the long run," said Yi He, co-founder of Binance. "With margin trading being one of the most requested services from our community, this is a testament to the large market demand from retail and institutional traders alike and its promising possibilities in the future."
Binance 2.0: One Platform, Two Functions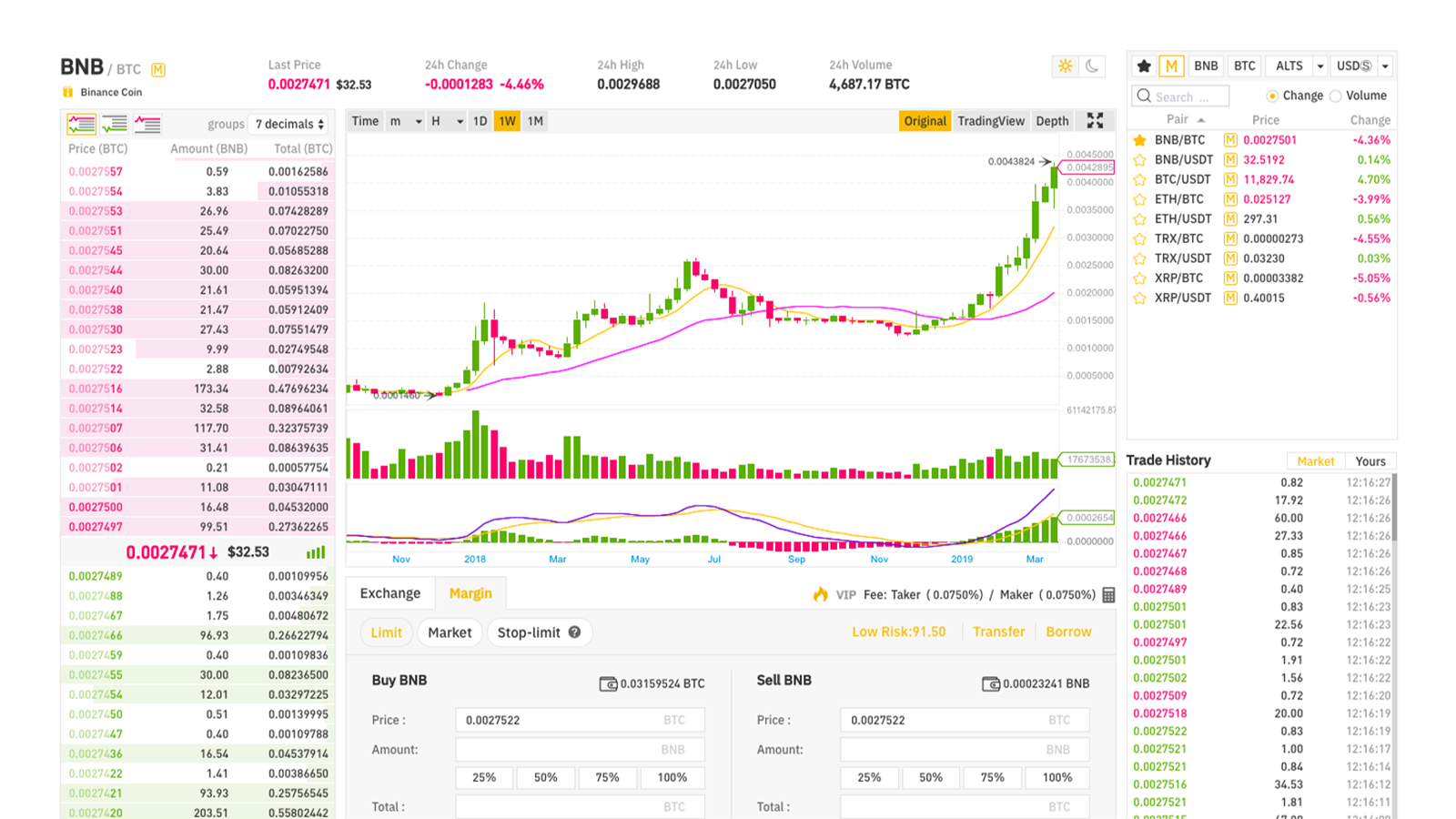 The Binance Margin Trading platform is hosted under a newly optimized interface for accessing both its exchange platform and the Margin function to better serve the fast-evolving cryptocurrency traders seamlessly within one user account and familiar interface. The 2.0 platform also features an advanced trading engine for better order matching and press indexes for margin level calculations to enable lower liquidations.
The new Binance 2.0 platform also allows its users to move funds easily from the Margin Wallet to their primary Binance Wallet without any transaction fees. Binance Margin provides the option to choose collaterals from a diverse spread of cryptocurrencies, also enabling users to pay for margin trading fees with Binance Coin (BNB).
Learn how Margin Trading on Binance works from Binance Academy's guide: https://www.binance.vision/tutorials/binance-margin-trading-guide