Binance Launches Margin Trading Service for Evolving Cryptocurrency Traders
The global cryptocurrency exchange and blockchain ecosystem comprised of several arms to serve the greater mission of blockchain advancement, Binance, today announced the launch of its Margin Trading platform. As part of Binance's effort to help push the industry forward and freedom of money, the company is expanding its trading possibilities, similarly to existing leveraged trading features on traditional markets.
"This is another step in providing an inclusive cryptocurrency trading platform catering to the needs of both advanced institutional traders and retail traders under the same roof," said CEO of Binance, CZ (Changpeng Zhao). "We are providing a new tool in the financial services and cryptocurrency markets to help amplify trading results of successful trades."
Margin trading confers to a higher profit potential than traditional trading for leveraged positions, but also comes at a greater risk, which relates to the current volatility cryptocurrency market. Margin trading in cryptocurrency trading can be used to open both long and short positions, where a long position reflects an assumption that the price of the asset will go up, while a short position reflects the opposite. Binance hopes to continue informing and raising more awareness on conscious trading for its communities on margin accounts to help them realize better profitability, lower risks, and more portfolio diversification.
"Though the current cryptocurrency market and legacy platforms for margin trading poses greater risks and benefits at the same time, we are confident that its development coupled with more knowledge on proper risk management will help realize greater benefits in the long run," said Yi He, co-founder of Binance. "With margin trading being one of the most requested services from our community, this is a testament to the large market demand from retail and institutional traders alike and its promising possibilities in the future."
Binance 2.0: One Platform, Two Functions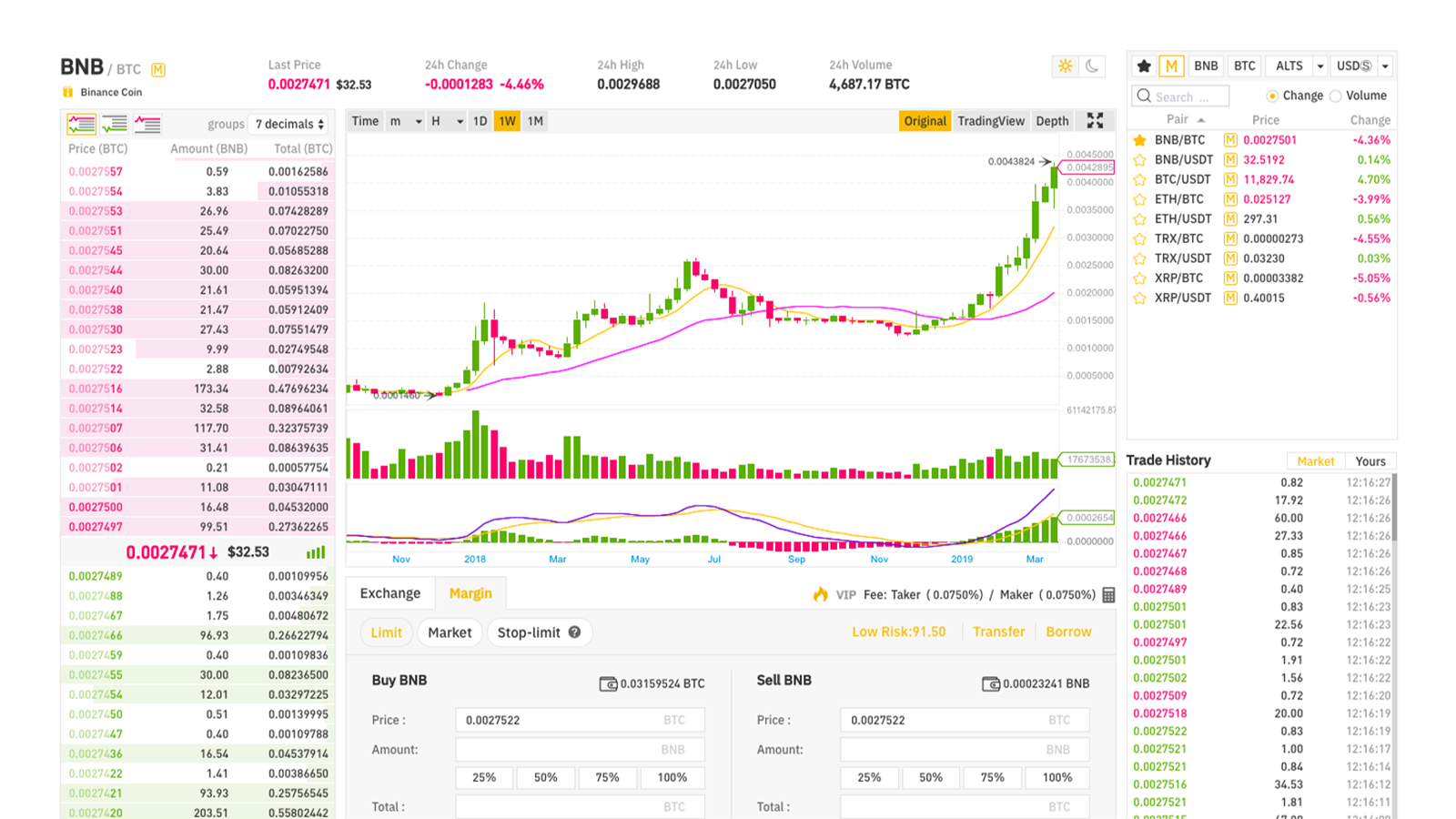 The Binance Margin Trading platform is hosted under a newly optimized interface for accessing both its exchange platform and the Margin function to better serve the fast-evolving cryptocurrency traders seamlessly within one user account and familiar interface. The 2.0 platform also features an advanced trading engine for better order matching and press indexes for margin level calculations to enable lower liquidations.
The new Binance 2.0 platform also allows its users to move funds easily from the Margin Wallet to their primary Binance Wallet without any transaction fees. Binance Margin provides the option to choose collaterals from a diverse spread of cryptocurrencies, also enabling users to pay for margin trading fees with Binance Coin (BNB).
Learn how Margin Trading on Binance works from Binance Academy's guide: https://www.binance.vision/tutorials/binance-margin-trading-guide
Binance.US Launches Registration
Launching tomorrow, Binance.US is a fast and secure digital asset marketplace, delivering the world's leading digital asset trading technology, speed, and experience to everyday users in America. Ahead of registration, we've answered some of the questions you've been asking.
If you don't read any further, take note:
Trading Fees are Zero until November 1, 2019.
Binance.US is rolling out to most states, but states not available upon launch are listed below.
Everyone will be a new user of Binance.US. Please verify your account and deposit funds to be eligible to access trading.
Who will be available to register for an account at Binance.US at launch?
We are rolling out Binance.US gradually across America. At launch, new users with a valid government ID (driver's license or passport) and social security number (SSN) will be able to register for Binance.US in most U.S. states, excluding the following states:
Alabama
Alaska
Connecticut
Florida
Georgia
Hawaii
Idaho
Louisiana
New York
North Carolina
Texas
Vermont
Washington
Although it is upsetting that we cannot offer Binance.US in the states where I grew up and earned my education at this time, please rest assured that this is just the beginning, and it is our mission to bring access to those of you in these states many of us call home.
Can my coins/tokens held at other trading venues or custody solutions be automatically transferred to Binance.US, or will I need to manually transfer them?
Binance.US is an independent entity. Therefore, any of your digital assets held by other trading venues or custody solutions will not automatically transfer to Binance.US.
You are permitted to deposit digital assets and/or fiat, depending on your account verification level, in accordance with the terms of our User Agreement. It will be an easy few clicks to deposit funds to your Binance.US wallet.
What are the trading fees on Binance.US?
Reducing the barriers to digital asset adoption is one of our goals. Other marketplaces charge users excess fees to pass operational costs to marketplace users. We aim to change this trend by using a straightforward fee schedule. For personal accounts, we offer a flat fee of 0.10% per trade. If you buy $100 of BTC, your fee will be $0.10.
However, standing by our values of reducing the barriers to digital asset adoption, we are lifting all fees for trading at launch — Zero Fees until November 1, 2019.
Corporate accounts will have an adjusted fee schedule given their trading volume.
Will U.S. customers be able to buy listed coins/tokens with USD, credit cards, or debit cards?
U.S. customers will be able to buy listed coins with USD through ACH or wire transfer methods. We will be exploring other options based on the demand of our users.
What can I do with my coins/tokens that are NOT listed on Binance.US?
All coins/tokens not yet listed on Binance.US can still be stored with other custodians in the custody method of your choice (ex. hot wallet, cold storage, etc.) and traded on other venues that have live order books in those pairs. Over the coming weeks, we will be adding coins that satisfy our Digital Asset Risk Assessment Framework.
Will Binance.US customers be insured against theft, hacking, etc?
Binance.US takes security seriously. We prioritize customer protection and have measures dedicated to protecting customers from theft and hacking.
Will trades on Binance.US be separate from Binance.com?
Yes. Binance.US is a separate company, operated by BAM Trading Services. Your digital assets will be stored in Binance.US wallets.
What happens once registration opens on September 18 at 8am ET?
We will be accepting inbound transfers of BTC, ETH, XRP, BCH, LTC, USDT, and USD upon appropriate account verification starting tomorrow. We will accept deposits prior to enabling full trading and will be updating you when liquidity conditions are met allowing for trading to begin on set pairs. Trading on the order books will commence once a sufficient supply of these coins is established on the platform to allow for healthy markets. Support for additional jurisdictions and listings may be added at a later date.
See you bright and early Wednesday morning!
– C. Coley
CEO, Binance.US