Binance Launches Margin Trading Service for Evolving Cryptocurrency Traders
The global cryptocurrency exchange and blockchain ecosystem comprised of several arms to serve the greater mission of blockchain advancement, Binance, today announced the launch of its Margin Trading platform. As part of Binance's effort to help push the industry forward and freedom of money, the company is expanding its trading possibilities, similarly to existing leveraged trading features on traditional markets.
"This is another step in providing an inclusive cryptocurrency trading platform catering to the needs of both advanced institutional traders and retail traders under the same roof," said CEO of Binance, CZ (Changpeng Zhao). "We are providing a new tool in the financial services and cryptocurrency markets to help amplify trading results of successful trades."
Margin trading confers to a higher profit potential than traditional trading for leveraged positions, but also comes at a greater risk, which relates to the current volatility cryptocurrency market. Margin trading in cryptocurrency trading can be used to open both long and short positions, where a long position reflects an assumption that the price of the asset will go up, while a short position reflects the opposite. Binance hopes to continue informing and raising more awareness on conscious trading for its communities on margin accounts to help them realize better profitability, lower risks, and more portfolio diversification.
"Though the current cryptocurrency market and legacy platforms for margin trading poses greater risks and benefits at the same time, we are confident that its development coupled with more knowledge on proper risk management will help realize greater benefits in the long run," said Yi He, co-founder of Binance. "With margin trading being one of the most requested services from our community, this is a testament to the large market demand from retail and institutional traders alike and its promising possibilities in the future."
Binance 2.0: One Platform, Two Functions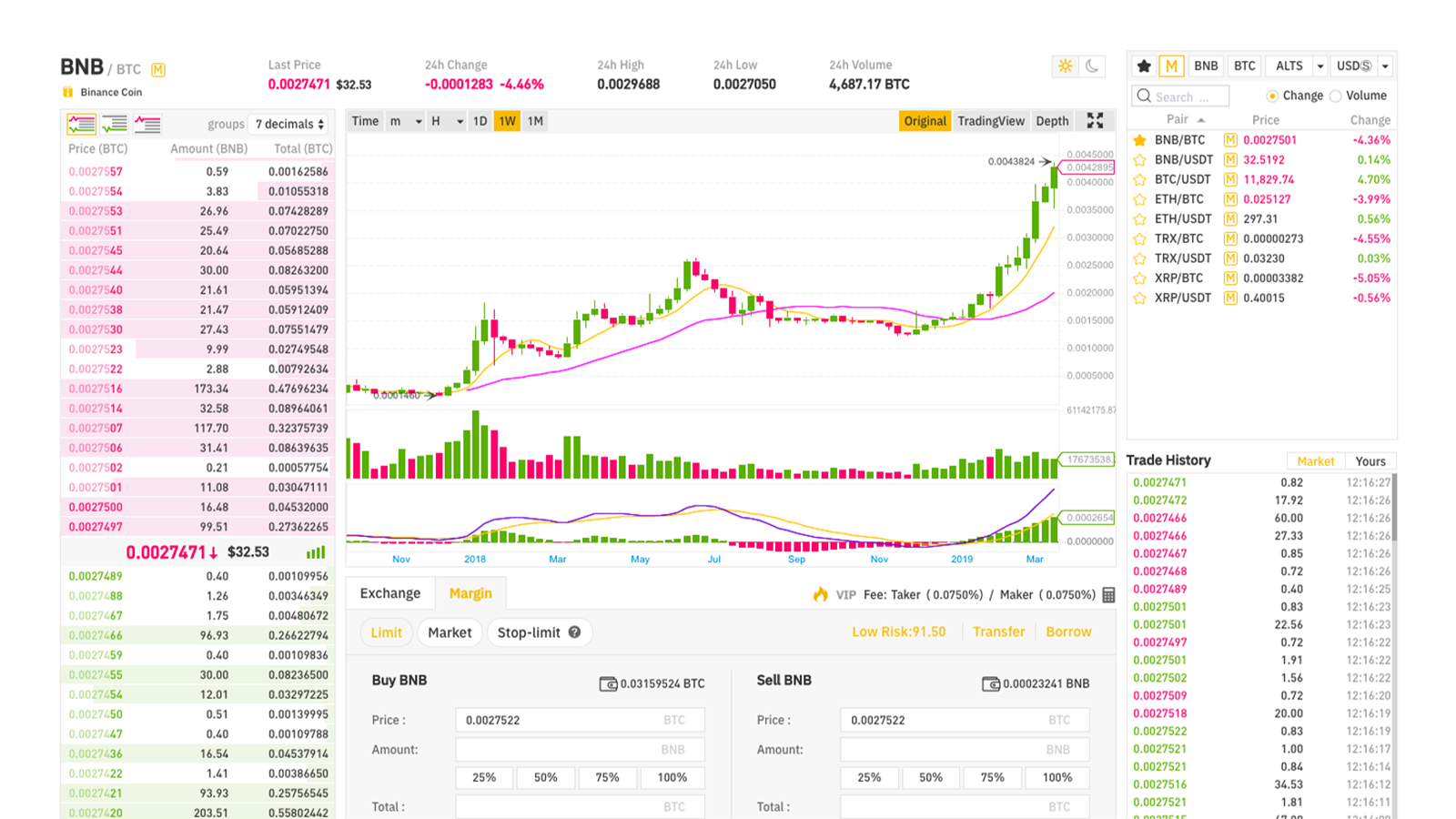 The Binance Margin Trading platform is hosted under a newly optimized interface for accessing both its exchange platform and the Margin function to better serve the fast-evolving cryptocurrency traders seamlessly within one user account and familiar interface. The 2.0 platform also features an advanced trading engine for better order matching and press indexes for margin level calculations to enable lower liquidations.
The new Binance 2.0 platform also allows its users to move funds easily from the Margin Wallet to their primary Binance Wallet without any transaction fees. Binance Margin provides the option to choose collaterals from a diverse spread of cryptocurrencies, also enabling users to pay for margin trading fees with Binance Coin (BNB).
Learn how Margin Trading on Binance works from Binance Academy's guide: https://www.binance.vision/tutorials/binance-margin-trading-guide
tZERO Partners with Atari Movie to Tokenize First Major Motion Picture
tZERO announced today that it has entered a partnership with the producers of the upcoming movie, "Atari: Fistful of Quarters," to tokenize the first major theatrical motion picture. This will be the first time the film industry leverages the power of blockchain technology, marking yet another milestone towards tZERO's goal to revolutionizing capital markets. tZERO will develop the Bushnell token, sold by the film production and financing company, Vision Tree.
The new biopic is centered on a pioneering figure in the video game industry, Nolan Bushnell, who went from repairing broken pinball machines to launching the videogame manufacturer Atari in the 1970s. The film's unique approach to funding is reflective of Bushnell's groundbreaking and innovative career. The movie is being produced by Leonardo DiCaprio's production company, Appian Way, as well as Benjamin Gerry and J.D. Seraphine of Vision Tree.
tZERO CEO Saum Noursalehi said, "Our goal is to apply blockchain technology to capital markets and every industry that can benefit from the platform we have built. The Atari movie is the perfect project to lead the way for the tokenization of the movie business."
Patrick M. Byrne, Director & Chief Executive Officer of tZERO's parent company, Overstock.com, (NASDAQ:OSTK) added, "We have been looking for the team to crack the code for Hollywood and bring much needed transparency and accountability to an industry that has been historically resistant to change. This is an extremely impressive team and we are thrilled to bring the tZERO tech stack to the movie industry."
Vision Tree announced in March 2018 that it planned to raise as much as $40 million with the sale of the Bushnell token. Bushnell token owners, in addition to receiving shares of movie earnings, also play an interactive role in the film's development. Token owners have received additional benefits such as being able to vote on the movie's trailer and even have a say in choosing the movie cast.
J.D. Seraphine, founder of Vision Tree said, "Once we had the opportunity to connect with Patrick, Saum, and the rest of the tZERO family it became immediately clear that this is the best team to roll out the token for the Atari movie."
Benjamin Gerry, founder of Vision Tree, added, "It has been a long process to find the right partner to tokenize the Atari movie and to blaze a new trail for other media projects to follow. After looking closely at every major company in the space, we are thrilled to collaborate with tZERO on this exciting endeavor."