Binance Launches Margin Trading Service for Evolving Cryptocurrency Traders
The global cryptocurrency exchange and blockchain ecosystem comprised of several arms to serve the greater mission of blockchain advancement, Binance, today announced the launch of its Margin Trading platform. As part of Binance's effort to help push the industry forward and freedom of money, the company is expanding its trading possibilities, similarly to existing leveraged trading features on traditional markets.
"This is another step in providing an inclusive cryptocurrency trading platform catering to the needs of both advanced institutional traders and retail traders under the same roof," said CEO of Binance, CZ (Changpeng Zhao). "We are providing a new tool in the financial services and cryptocurrency markets to help amplify trading results of successful trades."
Margin trading confers to a higher profit potential than traditional trading for leveraged positions, but also comes at a greater risk, which relates to the current volatility cryptocurrency market. Margin trading in cryptocurrency trading can be used to open both long and short positions, where a long position reflects an assumption that the price of the asset will go up, while a short position reflects the opposite. Binance hopes to continue informing and raising more awareness on conscious trading for its communities on margin accounts to help them realize better profitability, lower risks, and more portfolio diversification.
"Though the current cryptocurrency market and legacy platforms for margin trading poses greater risks and benefits at the same time, we are confident that its development coupled with more knowledge on proper risk management will help realize greater benefits in the long run," said Yi He, co-founder of Binance. "With margin trading being one of the most requested services from our community, this is a testament to the large market demand from retail and institutional traders alike and its promising possibilities in the future."
Binance 2.0: One Platform, Two Functions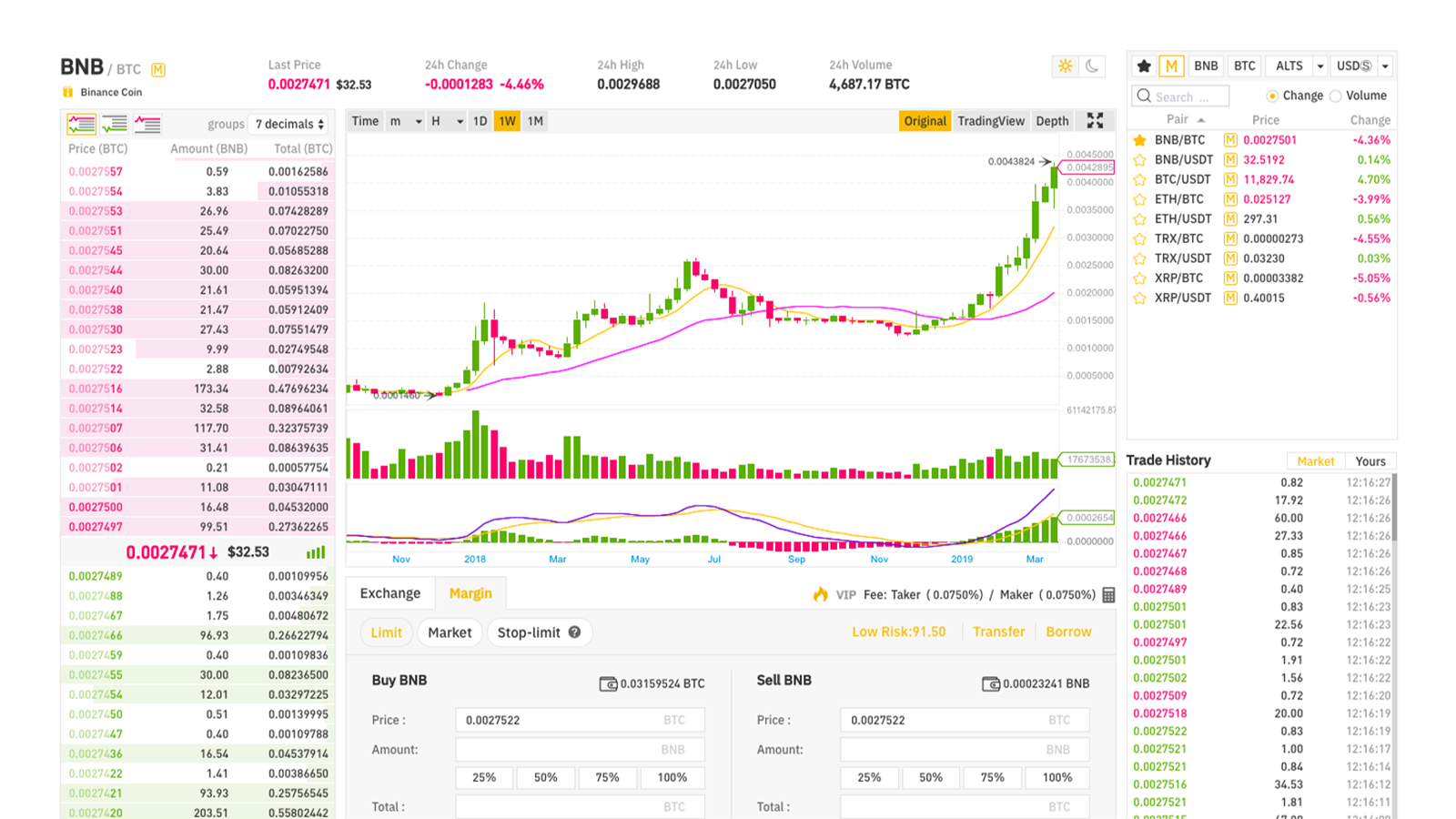 The Binance Margin Trading platform is hosted under a newly optimized interface for accessing both its exchange platform and the Margin function to better serve the fast-evolving cryptocurrency traders seamlessly within one user account and familiar interface. The 2.0 platform also features an advanced trading engine for better order matching and press indexes for margin level calculations to enable lower liquidations.
The new Binance 2.0 platform also allows its users to move funds easily from the Margin Wallet to their primary Binance Wallet without any transaction fees. Binance Margin provides the option to choose collaterals from a diverse spread of cryptocurrencies, also enabling users to pay for margin trading fees with Binance Coin (BNB).
Learn how Margin Trading on Binance works from Binance Academy's guide: https://www.binance.vision/tutorials/binance-margin-trading-guide
Celebrating $200 Million of Institutional Trading, NDAX Expands OTC Desk for Global Investors
National Digital Asset Exchange Inc. ("NDAX") is celebrating a milestone of $200 million in institutional trading with the expansion and re-branding of its over-the-counter (OTC) trading desk as NDAX Wealth. NDAX Wealth is a cryptocurrency OTC trading desk, tested and optimized to meet the needs of institutions (globally) and investors (in Canada) looking to trade $50,000 or more. NDAX Wealth offers seamless execution of high-volume block trades and gives access to a deep liquidity pool, industry-leading security, no price slippage, zero transaction confirmation, and same-day settlements against a range of cryptocurrencies and fiat currencies (CAD, USD, EUR, AUD).
NDAX Wealth features are optimized to meet the needs of:
Cryptocurrency mining firms
Hedge funds
Family offices
Brokerage firms
Merchants
Investment banks
High-volume day traders
"With a superior level of concierge service provided around the clock, NDAX Wealth trading desk is designed to connect investors with deep liquidity pools, creating hands-off seamless execution while helping to ensure the most competitive and same-day transactions," Bilal Hammoud, CEO, President, & Founder of NDAX said. "NDAX believes that cryptocurrency and digital currency will play a major role in reshaping the future of our interconnected global economy. Institutional and professional traders (as per the Global Crypto Adoption Index ) have been the main adopters for 2020. NDAX works directly with these investors to arrange purchases and sales that are as unique as the needs of each client — executing transactions with minimal fees, deep liquidity, and the privacy and autonomy our clients expect."
NDAX Wealth provides a seamless and secure high-volume trading experience with the benefit of a dedicated account executive to guide clients through initial consultations and each subsequent transaction.
Other features include:
No deposit fees
No withdrawal fees
Competitive execution fees
Zero confirmations for crypto deposits
Rest, Websocket, and FIX API connectivity
Around-the-clock human support
Dedicated account executives
Hybrid crypto transactions
Wide range of assets with a large liquidity pool
Institutional-grade security with segregated crypto accounts
Same-day settlements/segregated bank accounts
Industry-leading regulatory compliance
Hybrid crypto transactions
NDAX is providing the first hybrid crypto transaction experience in Canada. Giving users the choice to withdraw cryptocurrency instantaneously by whitelisting withdrawal addresses.
"At NDAX, we believe that custody of assets should be held safely with their owners, and for that, we are committed to educating our customers on how to safely hold their crypto. The hybrid crypto transaction model will enable safe withdrawal of funds to the wallet of the user's choice automatically, without any intervention from the exchange, making it a safe non-custodial experience. For the members that still do not feel comfortable storing their crypto, NDAX continues to offer the best-in-class custody infrastructure," Hammoud said.
Wide range of assets with a large liquidity pool
NDAX has a large selection of high market cap digital assets. However, if a coin isn't listed on the exchange, NDAX Wealth clients can still inquire about trading it and NDAX will work with them to make a match.
Institutional-grade security with segregated crypto accounts
Clients' cryptocurrency is stored in a multi-signature cold-storage powered by Ledger Vault, an institutional-grade cryptocurrency security solution.
NDAX Wealth, provides wealth management groups, hedge funds, and high-net-worth clients segregated Crypto-asset accounts with multi-governance infrastructure that provides users with full control over their portfolio of funds.
Same-day settlements/segregated bank accounts
Clients' funds are safely stored with a Canadian Crown-owned bank in a segregated account. Our unique Canadian banking also allows for a variety of funding methods that ensure same-day settlement of your CAD or USD deposits and withdrawals.
Industry-leading regulatory compliance
NDAX is registered with the Financial Transactions and Reports Analysis Centre of Canada (FINTRAC) – Canada's financial intelligence unit. We have established and implemented a robust compliance regime that adheres to the Proceeds of Crime, Money Laundering and Terrorist Financing Act (PCMLTFA) and associated Regulations.