LINK is launching on Coinbase Pro
After 10am PT on June 26, 2019, we will begin accepting inbound transfers of LINK to Coinbase Pro. We will accept deposits for at least 12 hours prior to enabling full trading.
Once sufficient supply of LINK is established on the platform, trading on the LINK/USD, and LINK/ETH order books will start in phases, beginning with post-only mode and proceeding to full trading should our metrics for a healthy market be met. Support for LINK will be immediately available in all Coinbase's supported jurisdictions, with the exception of New York State. Additional jurisdictions may be added at a later date.
Chainlink (LINK) is an Ethereum token that powers the Chainlink decentralized oracle network. This network allows smart contracts on Ethereum to securely connect to external data sources, APIs, and payment systems.
Please note that LINK is not yet available on Coinbase.com or via our consumer mobile apps. We will make a separate announcement if and when this functionality is added.
The stages of this launch
There will be four stages to the launch as outlined below. We will follow each of these stages independently for each new order book. If at any point one of the new order books does not meet our assessment for a healthy and orderly market, we may keep the book in one state for a longer period of time or suspend trading as per our Trading Rules.
We will send tweets from our Coinbase Pro Twitter account as each order book moves through the following phases:
Transfer-only. Starting at 10am PT on June 26, customers will be able to transfer LINK into their Coinbase Pro account. Customers will not yet be able to place orders and no orders will be filled on these order books. Order books will be in transfer-only mode for at least 12 hours.
Post-only. In the second stage, customers can post limit orders but there will be no matches (completed orders). Order books will be in post-only mode for a minimum of one minute.
Limit-only. In the third stage, limit orders will start matching but customers are unable to submit market orders. Order books will be in limit-only mode for a minimum of ten minutes.
Full trading. In the final stage, full trading services will be available, including limit, market, and stop orders.
One of the most common requests we receive from customers is to be able to trade more assets on our platform. Per the terms of our listing process, we anticipate supporting more assets that meet our standards over time.
You can sign up for a Coinbase Pro account here to start trading. For more information on trading LINK on Coinbase Pro, visit our support page.
Binance Launches Margin Trading Service for Evolving Cryptocurrency Traders
The global cryptocurrency exchange and blockchain ecosystem comprised of several arms to serve the greater mission of blockchain advancement, Binance, today announced the launch of its Margin Trading platform. As part of Binance's effort to help push the industry forward and freedom of money, the company is expanding its trading possibilities, similarly to existing leveraged trading features on traditional markets.
"This is another step in providing an inclusive cryptocurrency trading platform catering to the needs of both advanced institutional traders and retail traders under the same roof," said CEO of Binance, CZ (Changpeng Zhao). "We are providing a new tool in the financial services and cryptocurrency markets to help amplify trading results of successful trades."
Margin trading confers to a higher profit potential than traditional trading for leveraged positions, but also comes at a greater risk, which relates to the current volatility cryptocurrency market. Margin trading in cryptocurrency trading can be used to open both long and short positions, where a long position reflects an assumption that the price of the asset will go up, while a short position reflects the opposite. Binance hopes to continue informing and raising more awareness on conscious trading for its communities on margin accounts to help them realize better profitability, lower risks, and more portfolio diversification.
"Though the current cryptocurrency market and legacy platforms for margin trading poses greater risks and benefits at the same time, we are confident that its development coupled with more knowledge on proper risk management will help realize greater benefits in the long run," said Yi He, co-founder of Binance. "With margin trading being one of the most requested services from our community, this is a testament to the large market demand from retail and institutional traders alike and its promising possibilities in the future."
Binance 2.0: One Platform, Two Functions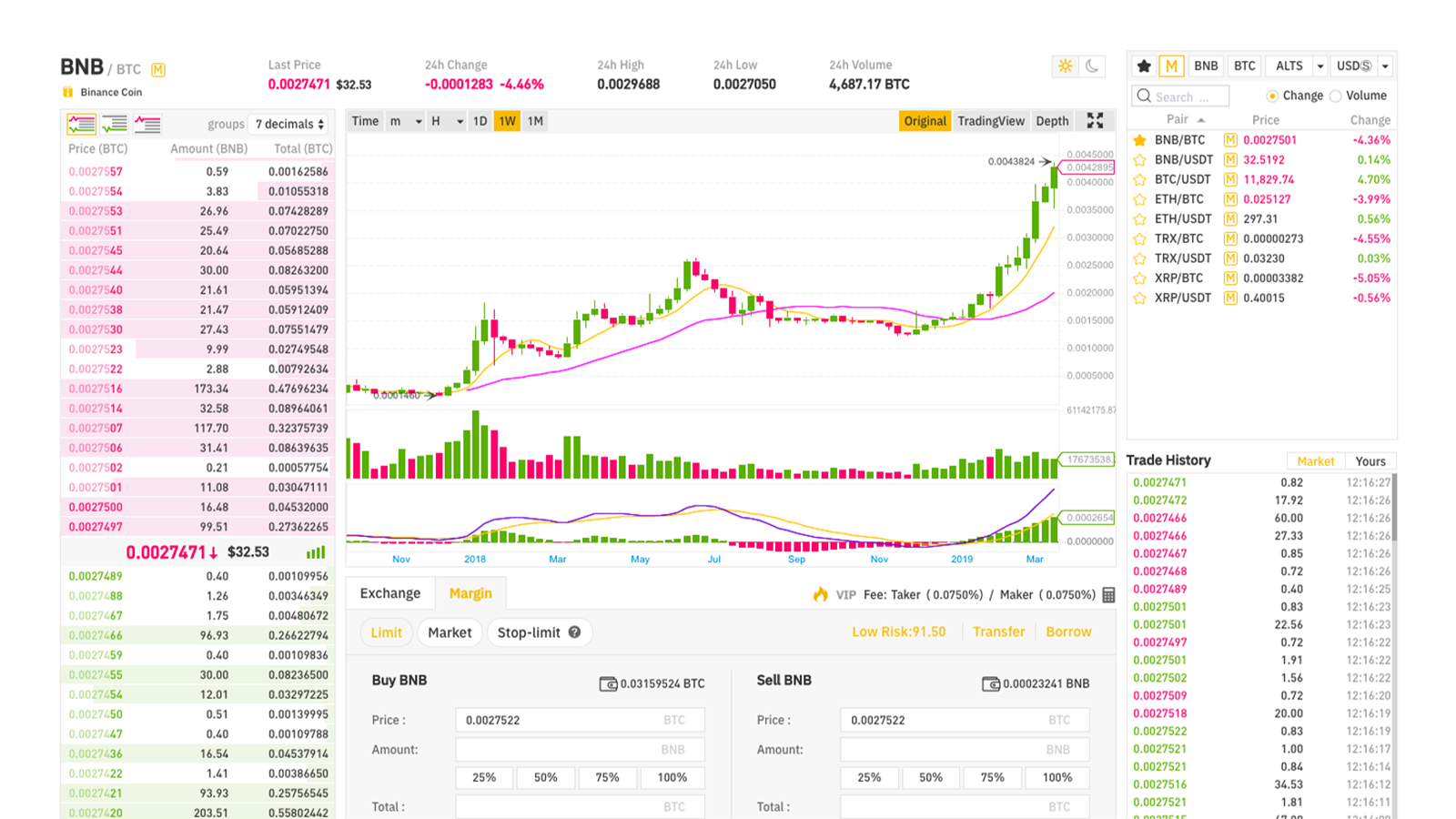 The Binance Margin Trading platform is hosted under a newly optimized interface for accessing both its exchange platform and the Margin function to better serve the fast-evolving cryptocurrency traders seamlessly within one user account and familiar interface. The 2.0 platform also features an advanced trading engine for better order matching and press indexes for margin level calculations to enable lower liquidations.
The new Binance 2.0 platform also allows its users to move funds easily from the Margin Wallet to their primary Binance Wallet without any transaction fees. Binance Margin provides the option to choose collaterals from a diverse spread of cryptocurrencies, also enabling users to pay for margin trading fees with Binance Coin (BNB).
Learn how Margin Trading on Binance works from Binance Academy's guide: https://www.binance.vision/tutorials/binance-margin-trading-guide