Quadriga Fuels Race Among Lawyers For Slice of Lost Millions
Canada's top law firms are set to converge this Valentine's Day on a Halifax courtroom, competing for a piece of the C$260 million ($196 million) mystery behind the Quadriga CX cryptocurrency exchange.
The lawyers are contending for the right to represent some 115,000 Quadriga customers who are owed about C$190 million in Bitcoin and other digital assets plus another C$70 million in cash in court proceedings involving the shuttered Vancouver-based exchange. Quadriga was granted creditor protection last week in Nova Scotia Supreme Court, halting any lawsuits while the firm seeks to restructure with the help of Ernst & Young.
Bennett Jones LLP and McInnes Cooper were first to submit a request to represent users, with retail investor Tong Zou claiming he was "one of the largest affected individual users" and forwarding his name in an affidavit that included five other named account holders. Since then, one of those holders has withdrawn from the group, leaving 141 affected users with C$11.9 million of cash claims and C$1.11 million in cryptocurrency, according to a Feb. 11 court filing.
Others law firms have come forward, filing competing submissions ahead of Thursday's hearing before Nova Scotia Supreme Court Justice Michael Wood, who may then appoint counsel to represent those account holders. For the law firms, such an opportunity would give them a slice of the administrative charges from the process to cover their professional fees.
Osler, Hoskin & Harcourt is working with Patterson Law and seeking to represent people such as Richard Kagerer, a software consultant from British Columbia who's owed C$19,900 in crypto and U.S. dollar balances. He's been down this road before: Kagerer's company is one of the creditors for Japan's Mt. Gox exchange, which entered insolvency proceedings in 2014. Kagerer also said in his Feb. 11 statement that he was "among a small number of customers" who filed claims in court when another Canadian cryptocurrency exchange shut down a few years ago.
Binance Launches Margin Trading Service for Evolving Cryptocurrency Traders
The global cryptocurrency exchange and blockchain ecosystem comprised of several arms to serve the greater mission of blockchain advancement, Binance, today announced the launch of its Margin Trading platform. As part of Binance's effort to help push the industry forward and freedom of money, the company is expanding its trading possibilities, similarly to existing leveraged trading features on traditional markets.
"This is another step in providing an inclusive cryptocurrency trading platform catering to the needs of both advanced institutional traders and retail traders under the same roof," said CEO of Binance, CZ (Changpeng Zhao). "We are providing a new tool in the financial services and cryptocurrency markets to help amplify trading results of successful trades."
Margin trading confers to a higher profit potential than traditional trading for leveraged positions, but also comes at a greater risk, which relates to the current volatility cryptocurrency market. Margin trading in cryptocurrency trading can be used to open both long and short positions, where a long position reflects an assumption that the price of the asset will go up, while a short position reflects the opposite. Binance hopes to continue informing and raising more awareness on conscious trading for its communities on margin accounts to help them realize better profitability, lower risks, and more portfolio diversification.
"Though the current cryptocurrency market and legacy platforms for margin trading poses greater risks and benefits at the same time, we are confident that its development coupled with more knowledge on proper risk management will help realize greater benefits in the long run," said Yi He, co-founder of Binance. "With margin trading being one of the most requested services from our community, this is a testament to the large market demand from retail and institutional traders alike and its promising possibilities in the future."
Binance 2.0: One Platform, Two Functions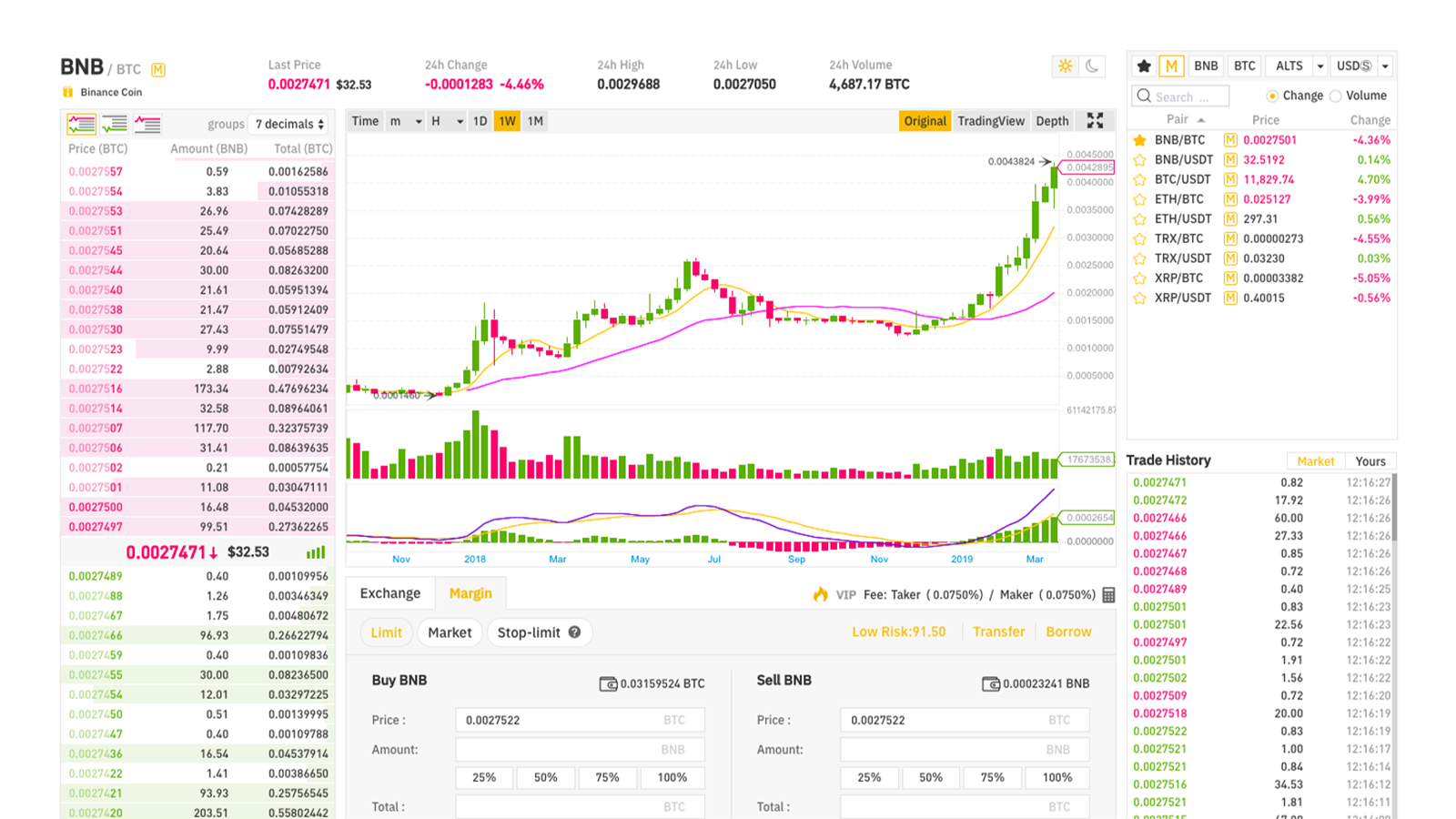 The Binance Margin Trading platform is hosted under a newly optimized interface for accessing both its exchange platform and the Margin function to better serve the fast-evolving cryptocurrency traders seamlessly within one user account and familiar interface. The 2.0 platform also features an advanced trading engine for better order matching and press indexes for margin level calculations to enable lower liquidations.
The new Binance 2.0 platform also allows its users to move funds easily from the Margin Wallet to their primary Binance Wallet without any transaction fees. Binance Margin provides the option to choose collaterals from a diverse spread of cryptocurrencies, also enabling users to pay for margin trading fees with Binance Coin (BNB).
Learn how Margin Trading on Binance works from Binance Academy's guide: https://www.binance.vision/tutorials/binance-margin-trading-guide