Tagomi Holdings Inc, an Electronic Brokerage for Digital Assets, Begins Trading
Tagomi offering prime services for sophisticated investors of Bitcoin, Ether, and other digital assets, today announced it is live and executing client trades, and that it has received the backing of several notable investors. Tagomi helps clients achieve best price execution for digital assets, who expect and require institutional operational standards, treasury management, low transaction-costs, transparency, custody solutions, and other services.
To date, Tagomi has raised $16 million from top-tier investors, including Founders Fund, Collaborative Fund, SV Angel, Joe Lonsdale, Brainchild, Digital Currency Group, ZhenFund, Box Group, Elad Gil, Charlie Noyes, and others.
"Cryptocurrency trading lacks the transparency and sophisticated execution that top family offices and wealth management firms have come to expect. I'm excited to see an ambitious team with the right experience in finance and technology fix this, creating a solution we trust," said Joe Lonsdale, Founder of Palantir and Addepar.
Tagomi brings robust infrastructure and institutional services that sophisticated investors need to trade at scale. Tagomi's management team is comprised of industry veterans in the fields of electronic trading technology, digital asset investing, compliance, and regulatory. The leadership team brings relevant operational experience from Union Square Ventures, Goldman Sachs, Virtu Financial, Two Sigma, Citadel, Nasdaq and other companies.
"At this nascent stage for digital assets, investors are seeking a better way to execute large trades," said Jennifer Campbell, Chief Executive Officer of Tagomi. "We're excited to have built that. Our focus is on providing our clients, which include financial institutions, high net worth individuals and other sophisticated digital asset investors, a comprehensive solution that eases the operational challenges associated with trading at scale in this emerging asset class."
"Tagomi applies proven electronic trading solutions that these sophisticated investors have come to expect, and removes the operational hurdles commonly associated with digital asset investing," said Greg Tusar, Chief Technology Officer of Tagomi.
"We're a client-services first company that leverages best-in-class technology tools and multiple liquidity sources to help clients plan trades and receive best execution, tailored to their needs," said Marc Bhargava, President of Tagomi. "We encourage clients to work with our specialists and leverage data when making execution choices. Early client feedback has proven the benefit of this distinguishing factor."
Binance Launches Margin Trading Service for Evolving Cryptocurrency Traders
The global cryptocurrency exchange and blockchain ecosystem comprised of several arms to serve the greater mission of blockchain advancement, Binance, today announced the launch of its Margin Trading platform. As part of Binance's effort to help push the industry forward and freedom of money, the company is expanding its trading possibilities, similarly to existing leveraged trading features on traditional markets.
"This is another step in providing an inclusive cryptocurrency trading platform catering to the needs of both advanced institutional traders and retail traders under the same roof," said CEO of Binance, CZ (Changpeng Zhao). "We are providing a new tool in the financial services and cryptocurrency markets to help amplify trading results of successful trades."
Margin trading confers to a higher profit potential than traditional trading for leveraged positions, but also comes at a greater risk, which relates to the current volatility cryptocurrency market. Margin trading in cryptocurrency trading can be used to open both long and short positions, where a long position reflects an assumption that the price of the asset will go up, while a short position reflects the opposite. Binance hopes to continue informing and raising more awareness on conscious trading for its communities on margin accounts to help them realize better profitability, lower risks, and more portfolio diversification.
"Though the current cryptocurrency market and legacy platforms for margin trading poses greater risks and benefits at the same time, we are confident that its development coupled with more knowledge on proper risk management will help realize greater benefits in the long run," said Yi He, co-founder of Binance. "With margin trading being one of the most requested services from our community, this is a testament to the large market demand from retail and institutional traders alike and its promising possibilities in the future."
Binance 2.0: One Platform, Two Functions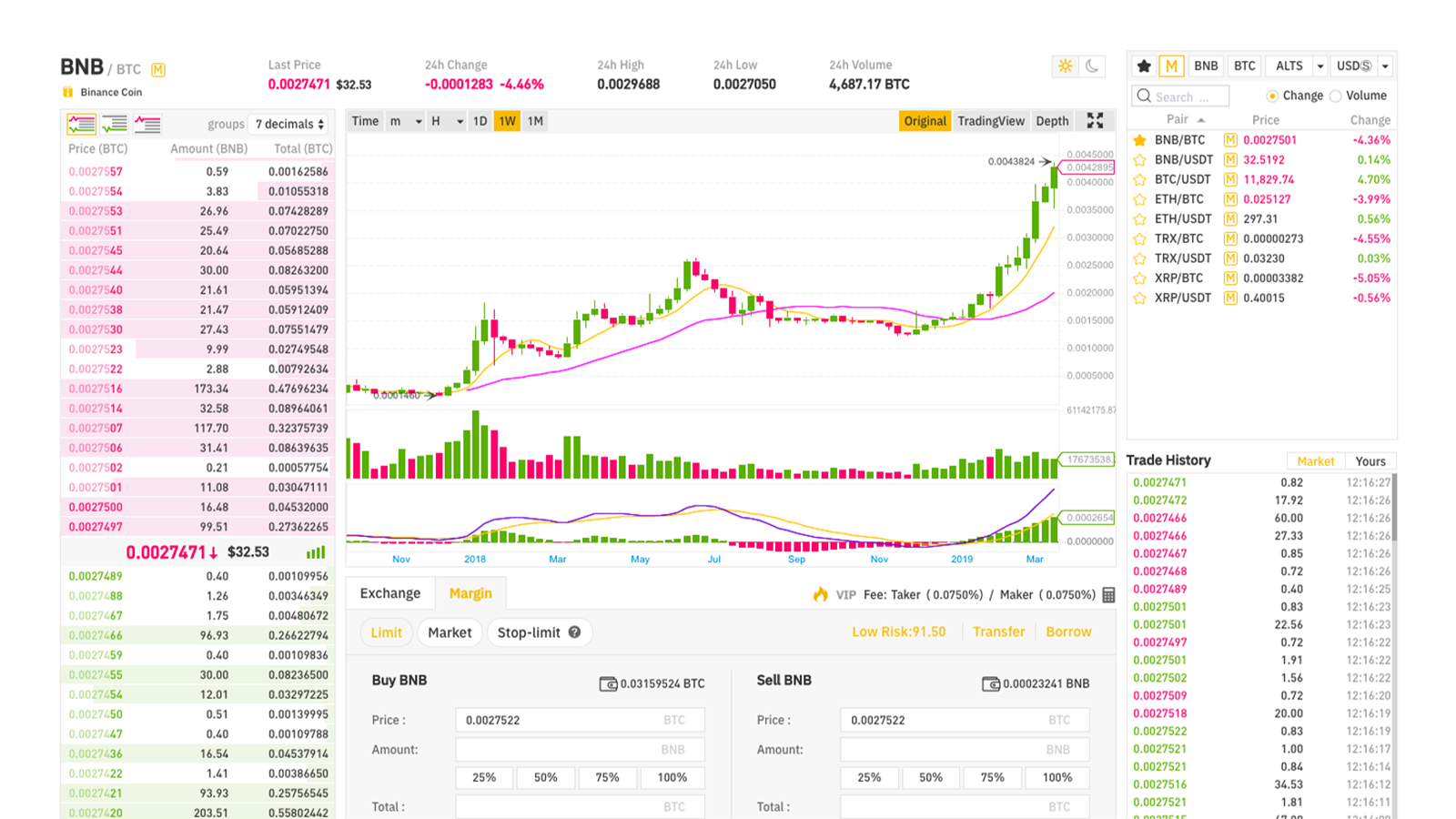 The Binance Margin Trading platform is hosted under a newly optimized interface for accessing both its exchange platform and the Margin function to better serve the fast-evolving cryptocurrency traders seamlessly within one user account and familiar interface. The 2.0 platform also features an advanced trading engine for better order matching and press indexes for margin level calculations to enable lower liquidations.
The new Binance 2.0 platform also allows its users to move funds easily from the Margin Wallet to their primary Binance Wallet without any transaction fees. Binance Margin provides the option to choose collaterals from a diverse spread of cryptocurrencies, also enabling users to pay for margin trading fees with Binance Coin (BNB).
Learn how Margin Trading on Binance works from Binance Academy's guide: https://www.binance.vision/tutorials/binance-margin-trading-guide