Birks Group Partners with BitPay to Power Bitcoin Payment
Birks Group, Canada's leading luxury fine jewelry brand since 1879 is pleased to announce that they will now accept bitcoin at selective stores across Canada. Birks Group partnered with BitPay to offer its customers new payment options which launched late November 2018, allowing for faster, easier and more secure purchases. Birks Group is the first luxury retailer in Canada to accept bitcoin.
Founded in 2011, BitPay is the pioneer and the most experienced company in bitcoin and blockchain payments. BitPay provides brick and mortar merchants like Birks Group with a full array of options for accepting blockchain payments, from direct point-of-sale integrations to web and mobile-based apps. BitPay's payment services are available in 8 select stores, including the recently opened Graff and Patek Philippe store in Vancouver, marking this the first major implementation of BitPay's point-of-sale solution in Canada.
"It is of great significance to Birks Group to launch BitPay," said Jean-Christophe Bédos, President and Chief Executive Officer of Birks Group. "As an internationally growing brand, we believe that BitPay will benefit our customers as we look to align ourselves with these innovative capabilities that are on the forefront of technology."

"Birks Group has a large number of international shoppers so allowing them to pay in bitcoin makes perfect sense," said Sonny Singh, Chief Commercial Officer, BitPay. "Accepting bitcoin helps Birks Group to cater to their high-end international clients and get new customers while providing an innovative and safe payment option."
BitPay allows merchants to accept bitcoin risk free with no currency threat. Luxury brands ranging from jewellery to exotic cars and real estate have implemented BitPay as it allows for large transactions that are fast and easy for customers. The ability to pay in bitcoin at Birks Group retail locations for brands such as Rolex, Bulgari, Cartier and Breitling is now available at Vancouver West Hastings, Brinkhaus Calgary, Fairview Mall, Bloor, Yorkdale, Montreal and Calgary store locations. The recently opened Graff and Patek Philippe retail stores located at 1018 West Georgia Street in Vancouver, BC will also be accepting bitcoin soon.
Binance Launches Margin Trading Service for Evolving Cryptocurrency Traders
The global cryptocurrency exchange and blockchain ecosystem comprised of several arms to serve the greater mission of blockchain advancement, Binance, today announced the launch of its Margin Trading platform. As part of Binance's effort to help push the industry forward and freedom of money, the company is expanding its trading possibilities, similarly to existing leveraged trading features on traditional markets.
"This is another step in providing an inclusive cryptocurrency trading platform catering to the needs of both advanced institutional traders and retail traders under the same roof," said CEO of Binance, CZ (Changpeng Zhao). "We are providing a new tool in the financial services and cryptocurrency markets to help amplify trading results of successful trades."
Margin trading confers to a higher profit potential than traditional trading for leveraged positions, but also comes at a greater risk, which relates to the current volatility cryptocurrency market. Margin trading in cryptocurrency trading can be used to open both long and short positions, where a long position reflects an assumption that the price of the asset will go up, while a short position reflects the opposite. Binance hopes to continue informing and raising more awareness on conscious trading for its communities on margin accounts to help them realize better profitability, lower risks, and more portfolio diversification.
"Though the current cryptocurrency market and legacy platforms for margin trading poses greater risks and benefits at the same time, we are confident that its development coupled with more knowledge on proper risk management will help realize greater benefits in the long run," said Yi He, co-founder of Binance. "With margin trading being one of the most requested services from our community, this is a testament to the large market demand from retail and institutional traders alike and its promising possibilities in the future."
Binance 2.0: One Platform, Two Functions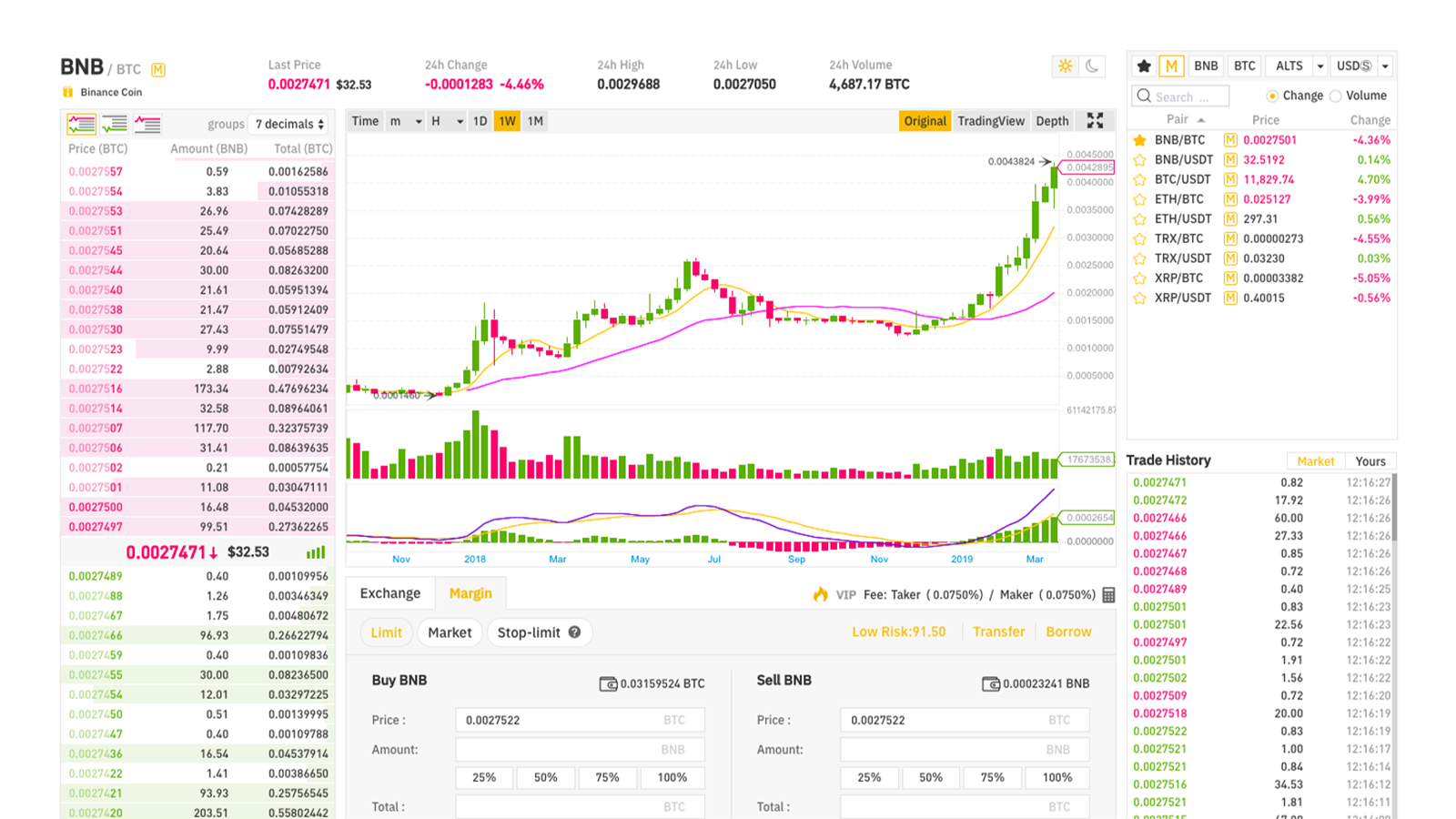 The Binance Margin Trading platform is hosted under a newly optimized interface for accessing both its exchange platform and the Margin function to better serve the fast-evolving cryptocurrency traders seamlessly within one user account and familiar interface. The 2.0 platform also features an advanced trading engine for better order matching and press indexes for margin level calculations to enable lower liquidations.
The new Binance 2.0 platform also allows its users to move funds easily from the Margin Wallet to their primary Binance Wallet without any transaction fees. Binance Margin provides the option to choose collaterals from a diverse spread of cryptocurrencies, also enabling users to pay for margin trading fees with Binance Coin (BNB).
Learn how Margin Trading on Binance works from Binance Academy's guide: https://www.binance.vision/tutorials/binance-margin-trading-guide